5 Oak Furniture Living Room Ideas For Inspiration
Quality oak furniture is a great way to make your living room comfortable, practical, and stylish. And one of the great things about oak furniture is that it also opens up a wide range of style options.
Thanks to the natural qualities and timeless appeal of oak, a solid set of oak living room furniture is the perfect foundation to any living room, whatever style you're looking for. Here are five different oak living room ideas to inspire you as you plan your room.
1. Go for slick scandi style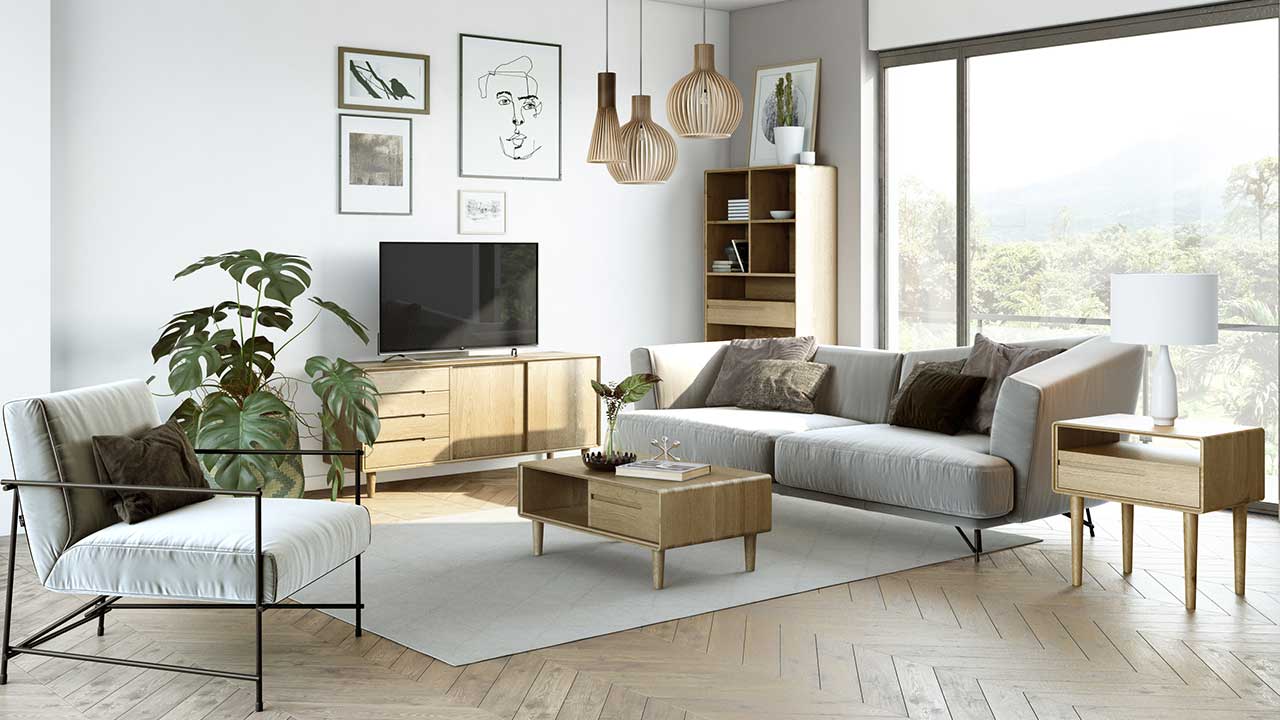 Scandinavian interior design has been in for over a decade, and it's showing no signs of going away. Strong lines, minimalism, and functionality are key to the scandi vibe, as you can see demonstrated in the beautiful Scandic oak range. Already got your oak furniture? Other ways to make your living room more scandi include painting your walls white, exposing your floor (no wall-to-wall carpets!), minimising clutter, adding plants, and using natural textures like linen and wool in neutral colours for your sofas and chairs.
2. Create a cosy and homely rustic living room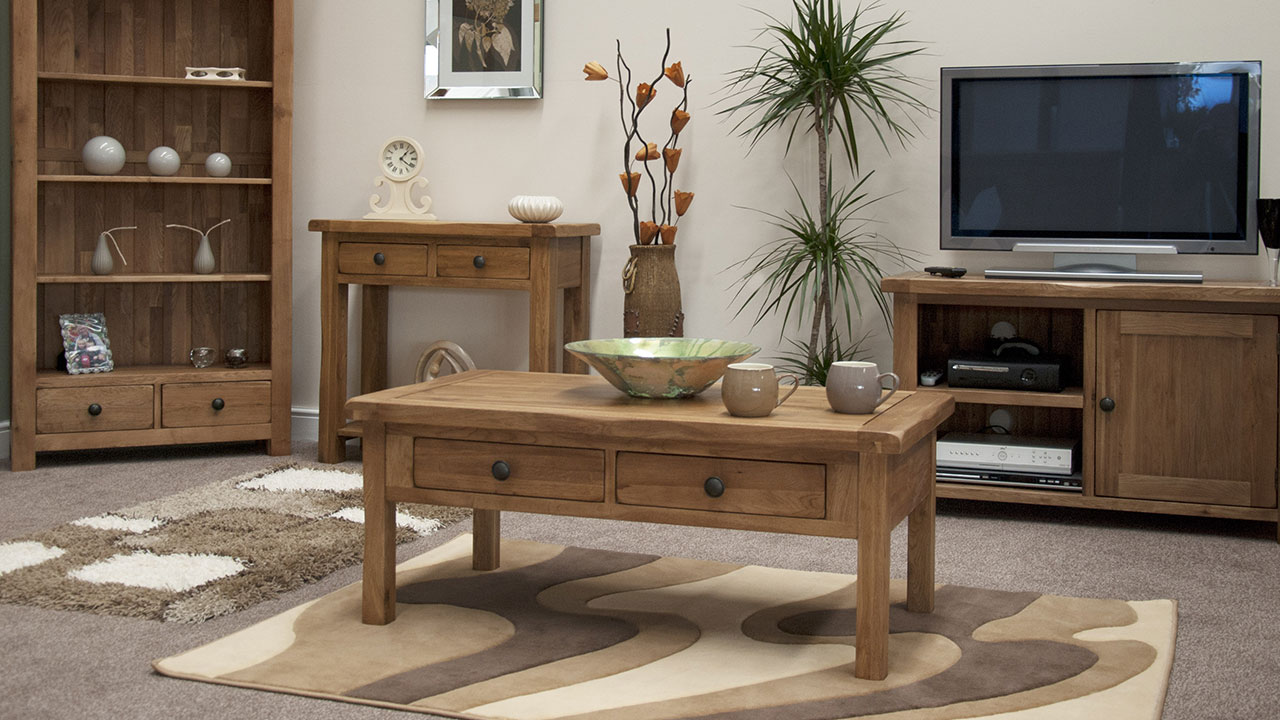 With the right styling, oak furniture can give your living room a charming and cosy farmhouse feel. The Rustic Oak Living Room range in solid oak creates a country cottage feel thanks to its chunky shape and warm tones. You can complete the rustic living room look by incorporating leather sofas, fake fur, candles, wooden decorations, wicker baskets, and even galvanised metal. Consider including some shabby chic elements for a real rustic feel!
3. Try painted oak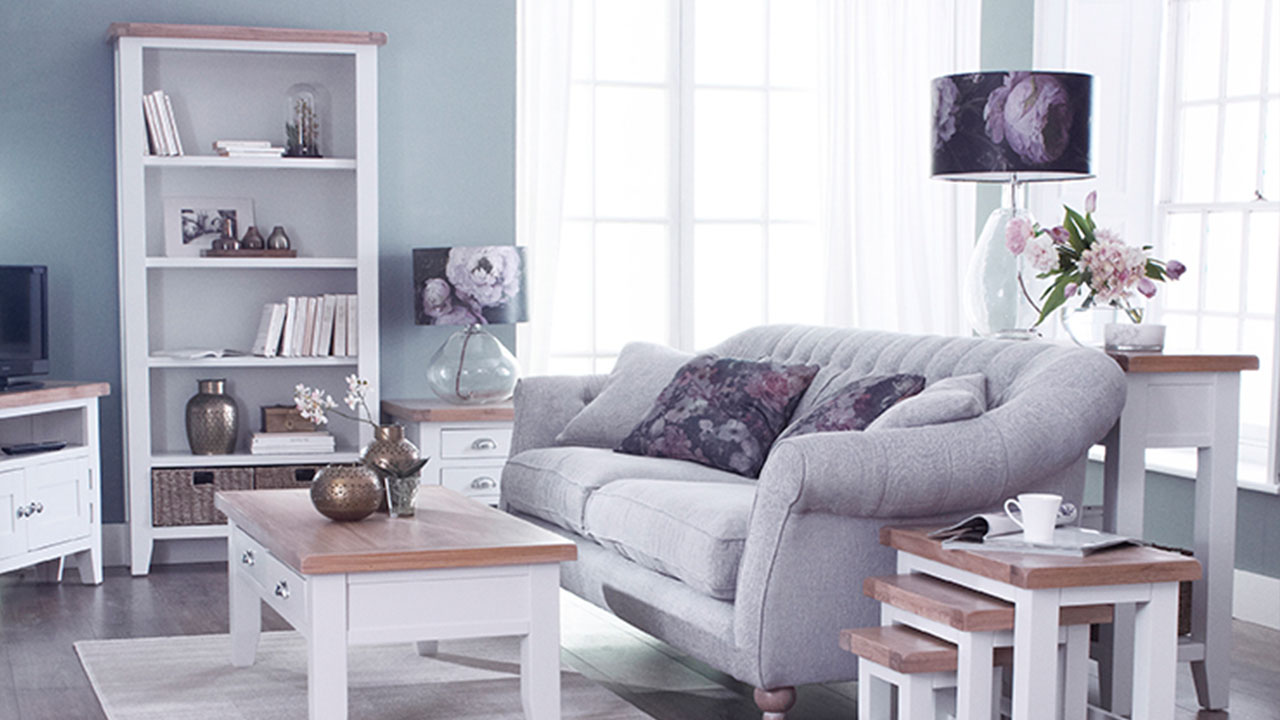 Painted oak allows you to keep the feel of natural wood furniture, at the same time as freeing you up from the warm golden tones of traditional oak furniture. For this reason, painted oak has become really popular in recent years. Subtle whites, greys, and neutral colours like stone work really well on painted oak furniture, opening up a world of design possibilities for a modern and chic look.
4. Mix wood and metal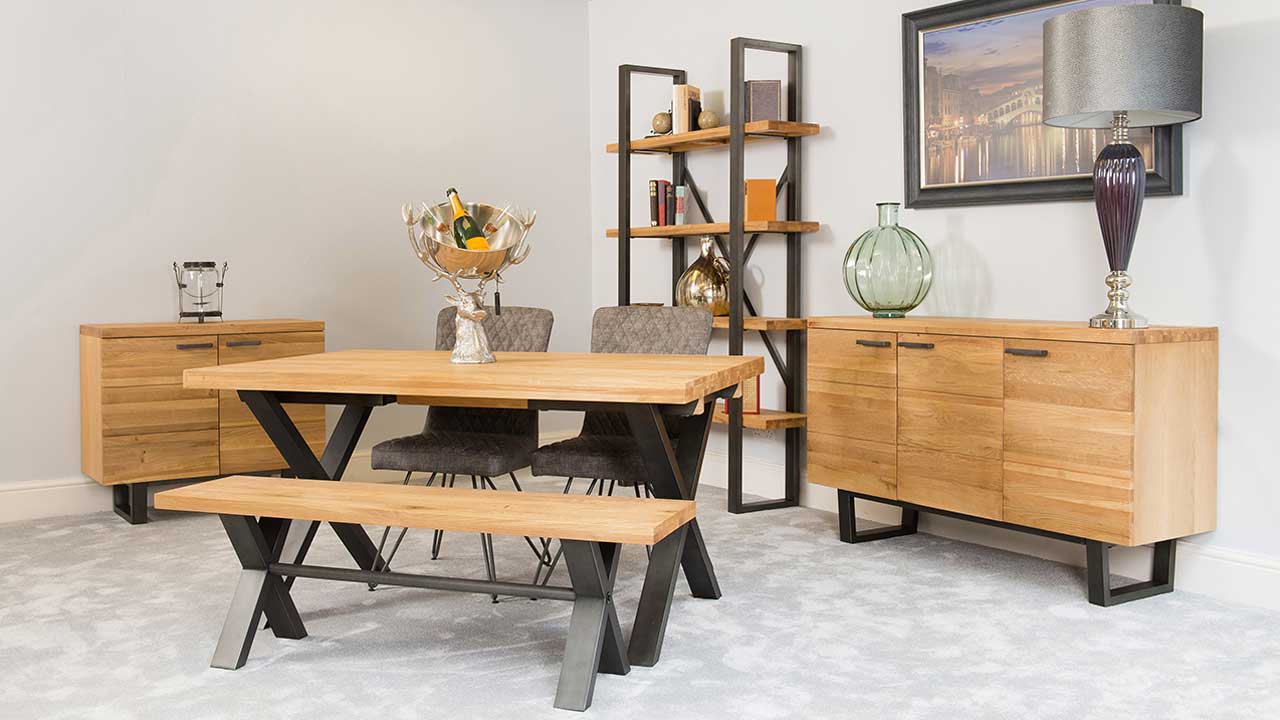 The effect of wood and metal together brings a distinctive and modern look, as the Harmony Oak range shows so well. The combination of natural materials creates a sense of balance and solidity, as well as providing an aesthetically pleasing depth of textures and colour. Add in other textures such as glass or natural fabrics like linen or wool, and you'll create a peaceful and balanced living room that's perfect for relaxation.
5. Go for a tried-and-true classic look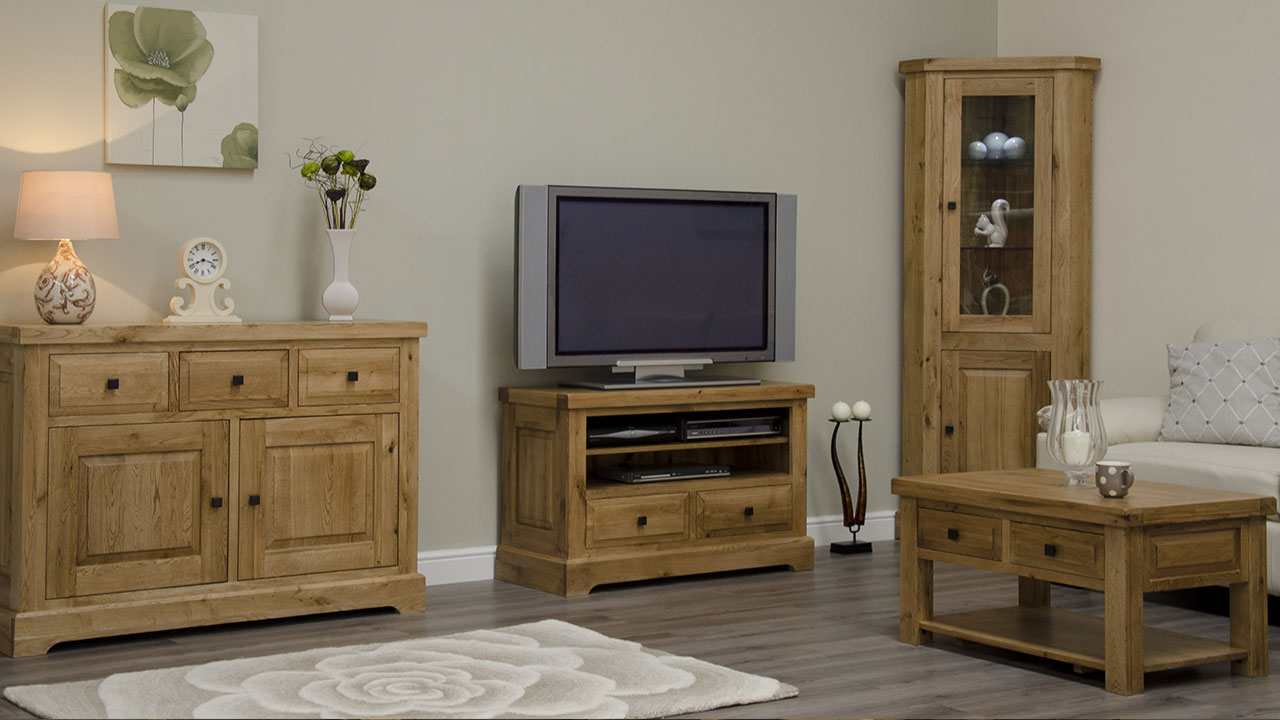 There are some designs that never go out of style. So if you want to make everyone happy, why not go for a classic and timeless oak furniture design? The Deluxe Oak range, with its clean edges, subtle finishing, and honey-coloured oak tones looks fantastic and is guaranteed to stand the test of time. Match it up with some of the many colours that go with oak and you'll be onto timeless style.
Get more from your living room furniture
Oak furniture is the perfect foundation for any living room, but pairing it with the right features can take your room to the next level. Why not try one of the following ideas to make your oak furniture sing?
Paint a feature wall
Matching your oak furniture with the right colours of walls, floors, or carpets is important. Why not try painting a bold feature wall in a rich claret, crimson, or burgundy to create a luxurious feeling in your living room?
Be liberal with plants
Bring the outside in to elevate the feeling of your living room, as well as increasing the air quality. Classic house plants including ferns, palms, and rubber plants provide the perfect complement to oak furniture.
Add splashes of colour
Your walls are not the only place where colour counts. Why not experiment with colours on your sofas and chairs, or even with abstract art? Throws, cushions, and abstract artwork are great ways to add colour highlights and tie your oak furniture together with the room.
Get cosy with rugs, blankets, and throws
Oak is complemented by other natural materials like linen, wool, and cotton. Add texture to your sofas, chairs, or floor with carefully chosen rugs, blankets, or throws to soften your living room and enrich it with natural fabrics.
Match the colours carefully
It's important to match your oak furniture with the right colour walls and floors. A lot of different colours can work - from neutral, to earthy, to natural, to bold - but certain colours such as magnolia or cream can make your oak furniture appear washed out. Learn more in our guide to what colours go with oak furniture.