Hide unsightly wires and keep your TV safe with our specially designed and sturdy oak TV units. House of Oak stock an extensive selection of solid oak TV units and TV stands. You're sure to find a modern or traditional style to your taste. Corner TV units, extra-wide units, and painted units are available in solid wood. See also our oak HiFi cabinets.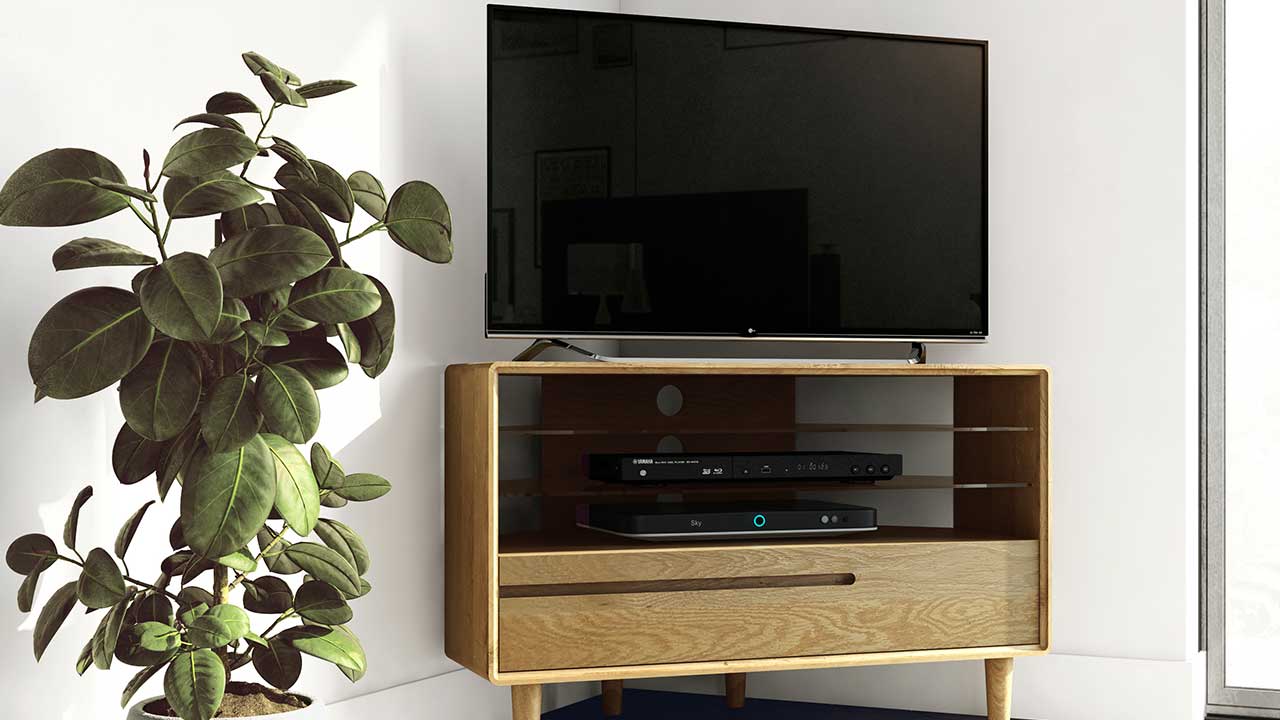 Choosing an oak TV unit or stand
If you've got a decent TV, then it should go without saying that you need a quality unit or stand to put it on. A quality TV stand will not only give you peace of mind, knowing that your TV is secure, but it also looks great.
Our beautiful matching oak living room sets mean that even your TV can fit in seamlessly with your living room furniture, enabling you to turn your living room or TV lounge into the perfect space for relaxation.
We have a solid oak TV stand for every style of television, from small screens that you want to tuck into the corner of your room, to extra-wide plasma TVs that want a bigger and more central display!
Oak corner TV units
An oak corner TV unit is a fantastic way to maximise space in your living room so you can have your TV in the corner without gaps. They can be a great way to keep your TV from being the centrepiece of the room or simply make it easy for you to use your space how you want to. Our corner TV stands are made from solid oak.
Extra large & wide TV units
Our collection of extra-wide oak TV units give you the space you need to display that beautiful wide-screen TV as effectively as possible. When you've spent a lot of money on a quality screen, you want to make sure it can be seen! Our large, extra-wide units are made from solid oak and are available in a range of different styles.
Durable and beautiful, they're a great choice for a solid wood TV unit - whether you like modern or traditional.
Painted oak TV units
Painted oak TV units offer the ultimate sophistication. They're easy to match to your current decor and look particularly good with traditional and countryside-influenced interior design. We offer painted solid oak TV stands in a variety of on-trend colours, like white, grey and cream. See our full range of painted oak furniture.