Bringing the Family Together
A new dining table is the perfect excuse for gathering all of your family and friends together in one place. With food being the centre of attention, both the children and adults will race down the stairs to come and sit down! Here at House of Oak, we have a wide range of oak furniture and with it being the perfect way to socialise and catch up, we thought we would run through our Dining Table and Chair Sets.
Wentworth Extending Table and 8 Chairs 
An exclusive deal to our website, this dining table and chairs set is perfect if you are looking to create that warm and friendly feeling in your kitchen or dining room. With its 8 chairs, you won't be short of room around the table and it is great for large families and frequent dinner parties.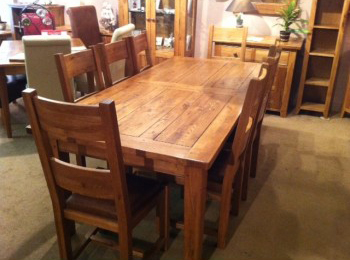 Heritage Oval Extending Table and 6 Chairs
If you are a lover off the timeless, traditional pieces, this dining table and chairs will be perfect for you. Suitable for both the dining room and kitchen, this vintage inspired piece is perfect for all of the family. Oozing style and comfort, this piece will look great alongside any décor.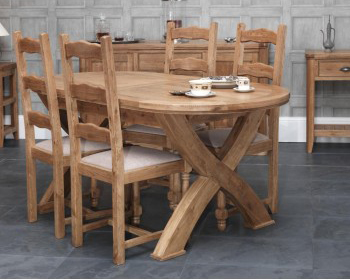 Trend Oak Table and 6 Paris Chairs
If you live in a modern home which pours with glamour, this table and chairs will fit right in. With the chair backs reaching the floor, this piece is not only pleasing to the eye, but practical as well. Even though this piece oozes a contemporary look, it still obtains its natural warmth through the oak wood. Perfect for all the family, this piece will look great in your home.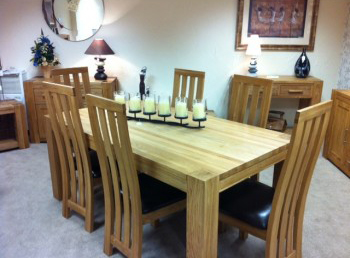 With Christmas just around the corner, these Dining Table and Chair Sets are ideal for bringing the whole family together and what better way to celebrate than a home cooked meal.
Here at House of Oak, we pride ourselves not only on our products but on our customer service as well. If you want to know more information about any of our products, contact us online or come and visit us in our showroom.
Don't forget to follow us on Facebook, Twitter and Pinterest!