HOO's New Collections
New England Collection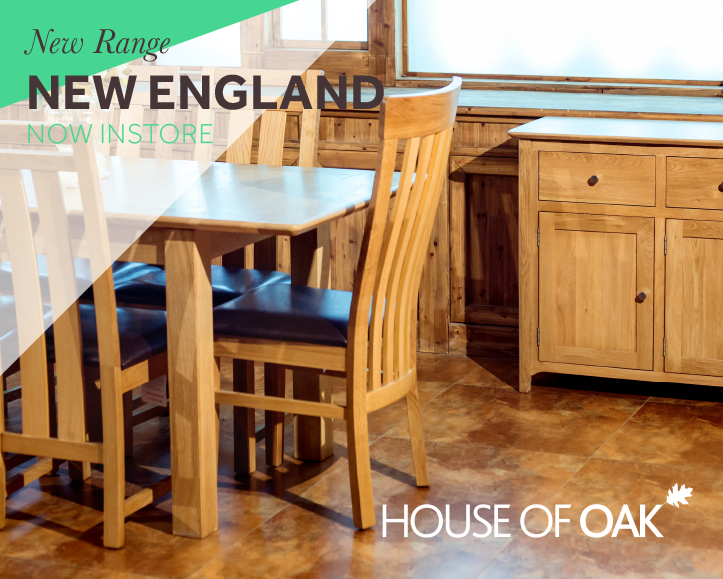 The fantastic New England collection delivers a contemporary style, infused with the traditional feel that comes from a focus on the oak's natural patterns and form. The end result is furniture that fits in with any home, offering a touch of tradition and the natural world to a modernist home, or a feeling of freshness and chic style to an otherwise antique feeling room.
As is appropriate for such a flexible style, the New England collection contains numerous supporting pieces of furniture – sideboards, TV stands, coffee tables and lamp tables will fit in with your current furniture, no matter what style you've chosen to adopt.
Alternatively, you can adopt New England as a style of its own, using the extending tables and matching chairs for a distinct New England dining room. The largest table is 132cm long, extending up to 192cm to comfortably fit 6 people with room to spare. The dining table makes a perfect centrepiece for your dining room, and is easy to style the rest of your room around.
The New England collection accomplishes its special blend of contemporary and traditional thanks to its focus on the natural form of the solid oak it's made from. Although the shapes conform to modern design standards, the patterns formed by the oak remain unique, so that each piece of furniture has its own story to tell, and is unique to your home.
Our New England collection is furniture worth keeping for life, and will last even longer. Browse everything the collection has to offer here.
Ironoak Collection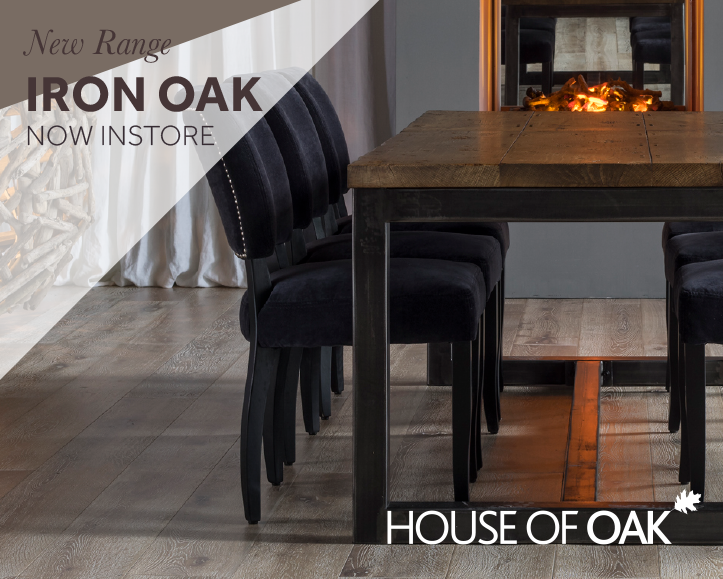 The new Ironoak range is unlike anything else we currently offer, and is sure to give your home an exceptionally intriguing new look. Mixing dark, rustic oak surfaces with black iron frames, the furniture has a vintage, industrial style that is sturdy in both look and feel.
Due to its unique look, the Ironoak collection is capable of changing the style of your room with just a single piece of furniture, especially a centrepiece like this 6ft x 4ft coffee table. Any of these pieces would fit in well in a home that aims for a vintage style, or even one with mostly antique and traditionally styled furniture. In a more contemporary home, a single Ironoak piece could offer you a quirky, out of place style without detracting from the overall feel.
As part of our Halo range, the Ironoak collection is hand crafted by expert artisans, and uses only the finest materials. Each piece is of the highest quality, and has its own unique character offered both by the method of construction and by the unique life of the oak used to make it.