Montana Oak
Every so often we like to bring an old favourite back into the limelight! And this time we're paying homage to the Montana Oak range – part of the beautiful Halo collection at HOO.
Before we get into the Montana Oak range, here's a brief insight into the Halo collection. The Halo collection was founded by Major Philip Oulton, over 30 years ago and is renowned for producing the highest quality furniture. Taking inspiration from British heritage, the stunning and traditional elegance of the collection is guaranteed to give your home the perfect essence of style. To this day traditional techniques and tools are used to build each piece, giving an overall quality and durability.
The Montana Oak is a range inspired by the 20th Century and as a result has a contemporary masculine design. Streamlined and solid, this range features brass cup handles and interesting finger joint detail, ensuring each piece lasts a lifetime.
This range contains pieces for the living room, dining room and office.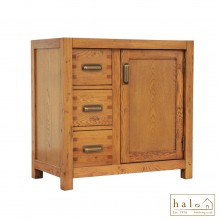 The Montana Oak Compact Sideboard is perfect for and living room or dining room, providing plenty of storage with 3 deep drawers that beautifully illustrate the finger joint detailing and a cupboard perfect for storing your favourite tipples.
Dimensions: 78cm High x 80cm Wide x 45cm Deep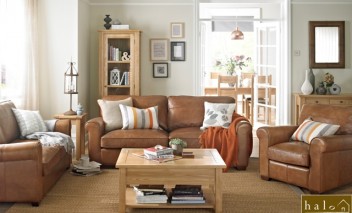 The Hudson sofa Is made using the finest Aniline leather hides; the most luxurious in the world and every sofa and chair in this range is hand finished ensuring the natural characteristics are never lost but enhanced, making sure each piece is as unique as your home. Available as a large 3-seat sofa, 2.5 seat sofa and a 2-seat sofa with a companion Hudson Armchair the range extensive range ensures you find the combination to suit your home.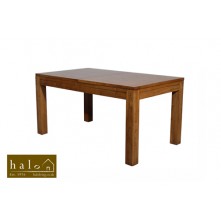 The dining tables for this range come in a variety of sizes and are extendable to suit all your dinner parties. Ranging from 4-7ft the tables, they use vintage nibbed oak and incorporate the unique the finger joint detail along each leg.
House of Oak always the perfect pieces to turn your house in to a home and each range is designed and built to withstand the test of time. Come in-store or view our ranges online to find the right fit for your home.
After all there's no place like home…