Olympic Interiors - Embrace the Festivities!
The past few years have seen proud homeowners and design obsessives turning to pastel hues and minimalist interiors in keeping with the 'less is more' mantra. Which most likely came around after decades of vibrant and extravagant furnishings that we grew up with.
The Rio Olympics are just around the corner, with the Opening Ceremony taking place this Friday. So we're looking to embrace the vibrancy of Rio's Carnival culture and bring some colour back into our lives - and our homes! Don't worry, we're not suggesting you should transform your house into a jungle of colour - we've just got a few tips to help add touches of vibrancy to your home.
Read more: Brighten up your life... and your home...
Patterned Walls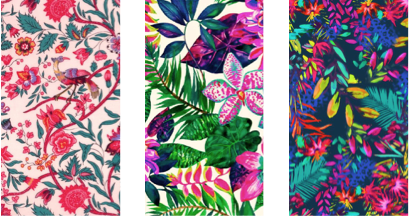 Inject some fun into your home with a wall dedicated to Mother Nature herself. Hues of pink and elegant birds would be perfect to lift a pastel-themed, minimalist room. Whilst brighter and more daring floral patterns could add a pop of unexpected colour to your dining, living or kitchen area. If you ever want a change - just explore new wallpaper patterns and colours to change it up every now and again!
Accessorise in Colour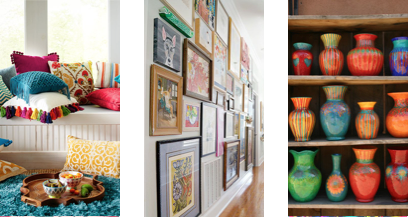 Bringing colour into your home doesn't neccessarily mean a big investment or change toy our interior. Colourful and vibrant accessories can be used to add a dash of colour into the home - without the commitment.
Cushions are a great way to transform a living area, and when used together can be scattered over neutral coloured bedding or seating areas to transform a minimalist lounge into a welcoming and vibrant social space. Bright wall art can be used to create gallery walls, - whether themed or abstract - adding a unique and professional looking splash of colour to your home.
And if you're an avid collector of any vivid ornaments, why not display them together in a creative way to inject some brightness into your home, whilst also creating an impressive exhibition of your favourite collectibles!
Small Colour, Big Impact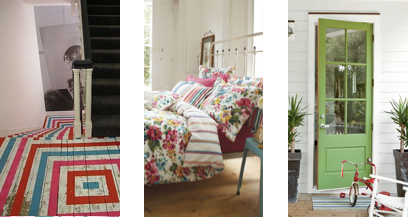 Changing just one aspect of your home can give it a completely new feel - and in this case, we're embracing the summer carnival theme!
Inject some colour into your bedroom with a bright bedding set that will create a new focal point of the room - easy peasy! Invest in a few different colours and patterns to regularly change the design of your bedroom!
Painting the floor sounds like a strange concept, but it's a great, yet subtle way to make a big impact - and completely up to you how you decide to paint it! Another great way to make a big impact with minimal efforts is to paint the doors in your home as a contrast to your decor. Whether it's the front door, bathroom door, or a dining/living room archway - this is a great way to bring colour into the home on a budget!
Read more: Character Building Oak-spiration for the Home...
If you're looking to spruce up your interior ready for the remainder of the summer, why not try some of our home hacks to truly embrace the festive carnival vibes?
Our Oak furniture ranges provide a perfect neutral base for any vibrant decoration, so browse our collections online to get yourself started. Better yet, pop into our showroom, where our friendly customer advisors are always on hand to help you with any enquiries regarding your home and our furniture.
After all, there's no place like home.