Verona Sale
Uhm-ing and ahh-ing over which of our solid wood ranges you want for your home? Perhaps we can help you make up your mind. We're holding our best ever sale on our Verona oak furniture range, up to a massive 20% off. This is your opportunity to get the oak furniture that's perfect for your home at a great discount.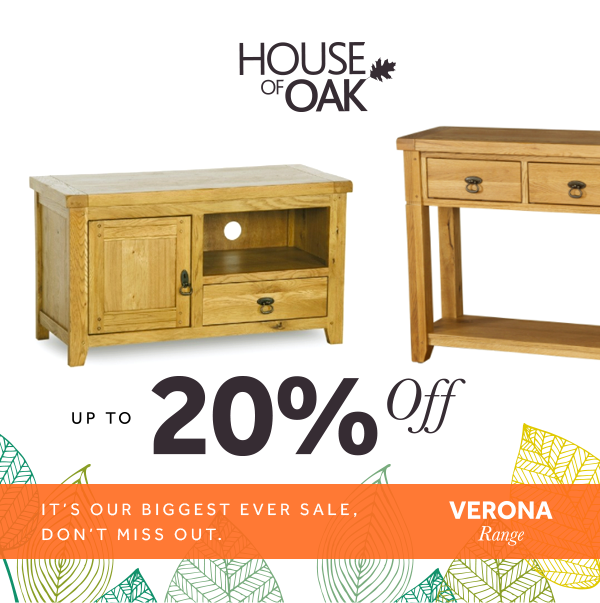 Already sold? Browse the full range to find the furniture you need.
The Verona Range: Rustic Oak Furniture
The Verona range has some our best examples of traditional oak furniture in a rustic style that just exudes character. Each piece is crafted with the greatest care based on traditional models, letting the characteristics of the oak influence the furniture as much as the design itself. The result is furniture that looks so authentic, you'd be forgiven for thinking it was a genuinely aged antique. We embrace the 'flaws' in the wood, allowing them to become part of the finished design rather than trying to remove them. As such, the Verona range has a unique character almost unlike any other contemporary wood furniture.
Designed for Modern Living
Although it borrows a lot from old design styles, the Verona range is very much designed for your modern home. Whatever look you want for your home, you'll always be constrained by the space you have available, and the needs of your family. Verona helps you fit everything together. Thanks to the range of products available, the rustic farmhouse style you're after can be made to fit in any home, from a London flat to an actual farmhouse. You'll find that the Verona range has options for all sorts of households, from a simple 2-door sideboard to a sizeable 7-drawer chest or triple wardrobe with mirror. You don't need a large house to access the unique look of Verona.
Make it Match
One of the struggles of finding new décor in the style you like is making sure that everything matches. Even through their uniqueness and character, Verona furniture maintains an aesthetic that makes it easy to match them not just with each other, but with all sorts of traditional oak and hardwood furniture. You don't need to shop around to find the perfect piece to finish your set when you can get it all in one place and be guaranteed a style that is at once diverse and consistent.
Antique Look, Contemporary Prices
Of course, the greatest part of this sale is the savings you can make! Verona gives you the look of authentic, antique oak furniture, but without paying the associated prices. With up to a massive 20% off, your value for money gets even better. You get all the great prices of modern, newly made furniture and all the great look and character of a traditional antique. You're winning both ways.
Look on our sale page for the full Verona range and find the perfect furniture for your home. 
After all there's no place like home...