16 Spare Bedroom Ideas & Essentials
Creating a guest bedroom that is inviting and a place both you and your guests want to spend time in makes hosting friends and family afar all that more enjoyable.
It's easy for spare bedrooms to be easily forgotten about. They can often turn into dumping grounds for items we don't have a home for yet, or a place for the dreaded clothes washing pile. This doesn't have to be the case though.
It's time to turn your spare bedroom into less of a spare bedroom and more of a luxurious guest bedroom.
Make your guests feel welcome by opening them up to a clean, tidy room that is vibrant in decor as well as providing them with everything they need, with our top guest bedroom ideas and furniture essentials.
Choose a strong bed as a base
The heart of any bedroom is, of course, the bed. A comfortable bed is a must, especially if your room is regularly vacated by guests. It's likely, unless you are renting your guest bedroom out, that you won't want to replace the furniture in the room that often. Therefore, it is important to choose a classic bed style, like a real oak bed, that won't date easily, and that fits central and comfortably in the room.
2. Don't just leave it at the bed
Accompany your new solid oak bed with a winning mattress and real oak headboard for the ultimate bed combination. Decide on a mattress that is in the middle of too soft and too hard, to satisfy people who prefer each end of the mattress softness spectrum and install a statement headboard, for that added luxe feel.
3. Experiment with different bedding textures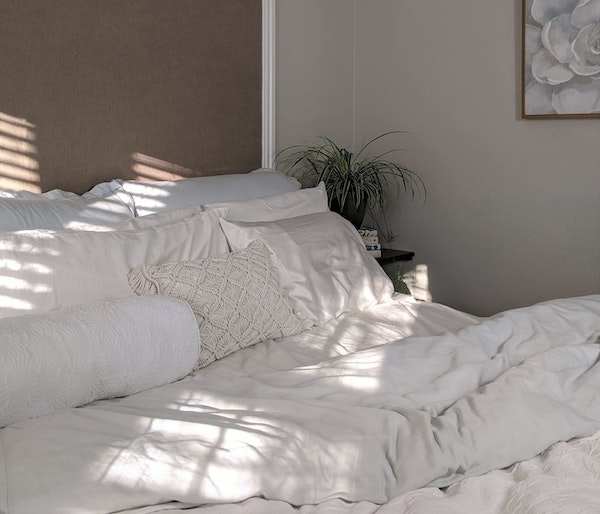 Opt for a neutral bedding colour scheme to cater to the taste of as many guests as you can. You pay for what you get with bedding, therefore paying that little extra will go a long way. Once you've chosen your colour scheme, layer up the bed with throws, cushions and blankets so that your guests can get as comfy as they need during their stay, and so they can get to their ideal temperature. Using different textures when dressing a bed can also add a homely feel to your guest bedroom.
4. Provide ample storage space
Whether your guest is staying 1 night or 2 weeks, it's important to give people the option of not living out of a suitcase. For the larger spare bedroom, provide your guests with a wardrobe for them to hang their clothes up. Where there is less space, opt for multipurpose oak blanket boxes, which look visually appealing and can neatly be stored at the end of a bed and also be used as a stool, as a place to put luggage and also store items away.
5. Add attention to detail to your decor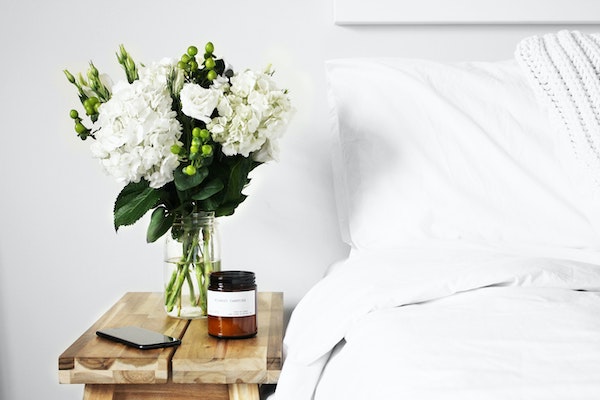 The finishing touches to your spare bedroom ideas list are what will distinguish your room from looking like an afterthought as opposed to a stand-alone room. Include items that you would want to have in a bedroom such as lamps or reading lights, a vase with flowers, artwork, candles or a diffuser.
6. Provide guests with a welcome pack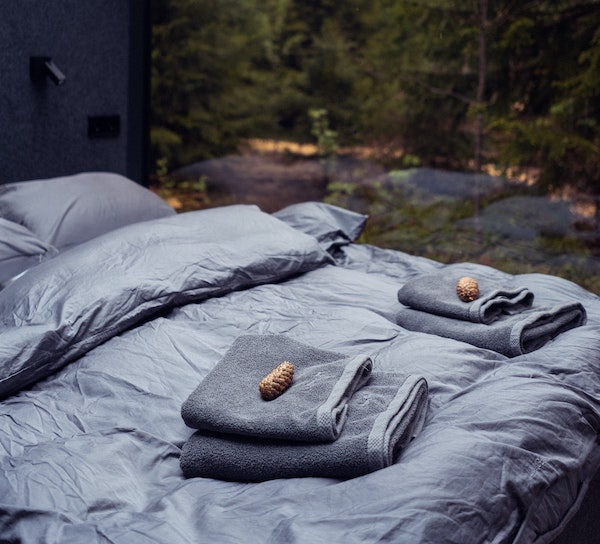 We've all arrived at a destination to discover we didn't pack essentials such as shampoo, shower gel and toothpaste. Save your guests the worry by providing a welcome pack on their bed when they arrive, with towels, flannels, and a sweet treat. Having everything out and prepared will save both you and them time and stress.
7. The guest bedroom doesn't have to just be for sleeping in
It's easy to spend a bit too much time with relatives and when you're a guest in someone else's home it can be difficult to find space and a break. If you've got the space to do so, fit in a boutique chair, that works as a colour pop, somewhere to sit, and somewhere to place clothes. Our luxurious occasional chairs provide an elegant finish to any room of the house.
8. Utilise single beds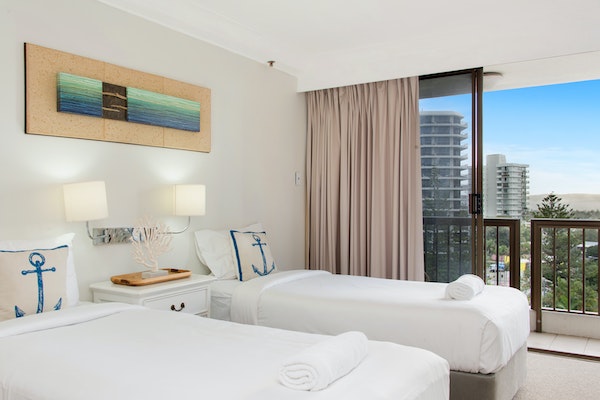 Do you often have more than one guest staying at a time? Instead of choosing a double bed, push two single beds together to make a double, so that you have more options of creating a twin spare bedroom when you need that extra bed.
9. Don't forget bedside storage
As well as bringing the room together, bedside tables are an essential item of furniture for any bedroom. Useful for storage and just generally practical, bedside tables are a must-have on at least one side of your bed.
10. Display pop-art and colourful pieces
Keep your spare room quirky, with art and colourful features, that keep it interesting and give the bedroom its own unique feel, so it isn't just a 'spare room'. We're talking about modern art, interesting ornaments, and creative light features. Get creative.
11. Mirrors for space, and forgetting the outfit right
Mirrors not only make a room look and feel bigger, but they're also another one of our bedroom essentials. Help your guests avoid any wardrobe nightmares by providing them with ample mirror access.
Additional spare bedroom ideas:
Spare bedrooms don't just have to be used as guest bedrooms. Although keeping a bed in a spare bedroom is handy for any friends popping over or a big family Christmas, they don't have to be the only purpose of the room. Get creative and turn your spare room into more than just an extra bedroom with our additional spare bedroom ideas, so you use it for something else when it's not in use:
What else can you do with a spare bedroom?
Design a library, where you can store your lifetime reads with real

oak bookcases

Add in a

desk

, and

office chair

so you can sit in a different room while working from home. Keep this area organised and tidy for it to not get in the way of the sleeping side of the spare room.

Keep some weights and mats to the side for a space to do your home workouts. Creating a very simple home gym can complete your workout routine for the days you can't get to the gym, and you never know, your guests might appreciate it too.

Use your spare bedroom as a walk-in wardrobe and beauty room. The ideal solution for the overflowing wardrobe of the house and beauty lover, install a

dressing table

for the ultimate get ready room that both you and your guests can enjoy.

Hang your guitars or musical instruments on the walls for your very own music room. Keeping your instruments on the walls will leave valuable floor space for spare bedroom furniture.
Explore our full bedroom upholstery range and more amazing real oak furniture to take your spare bedroom up a level.