Plant Decoration in your Living Room: Bring the Outdoors Indoors
Whether you have a green thumb or just an eye for interior design, indoor plants are a great way to introduce a touch of nature into your living room. Houseplants can bring a breath of fresh air into any room, given the right opportunity.
Plants are a wonderful addition and work well no matter the style of your home. Industrial, vintage and reclaimed, or modern all benefit from the inclusion of plants. They can bring a pop of colour into an otherwise drab room.
If you're looking to incorporate indoor plants into your living room effectively - you've come to the right place. We have explored five ways you can use plants to bring the outdoors inside.
1. Maximising your Living Space with Plants
Plants are a useful means of breaking up any space or delicately blending into its surroundings depending on the size. They can also be an eye-catching focal piece of the room if combined with the right colours and furniture.
Minimalism
If you're working with a smaller room, you're going to want to maximise the space you have available. This can be done in numerous ways such as decluttering, using the correct colours and tones, or playing with light sources. However, considering the placement of large focal pieces can immediately transform the space in your living room.
Opting for fewer and larger ornaments can help your living room feel more minimalist and spacey. The same can be said for the addition of large indoor plants.
Place a Large Plant Next to Your Sofa
Placing a large plant bang next to your sofa may be the old faithful, but for a good reason. To quote the wise words of Thomas Jackson Lance "if it ain't broke, don't fix it" and this is a testament to that statement.
When working with plants you don't have to limit yourself to shelves and tables, right next to the sofa is just fine. This is great for filling in empty space and works to add depth and visual interest to any room. Large plants work especially well with bright and vibrant colours, to create a beautiful interest piece for the room.
Just imagine gorgeous greenery next to your brand new Darby Chesterfield 3 Seater Sofa. Amazing.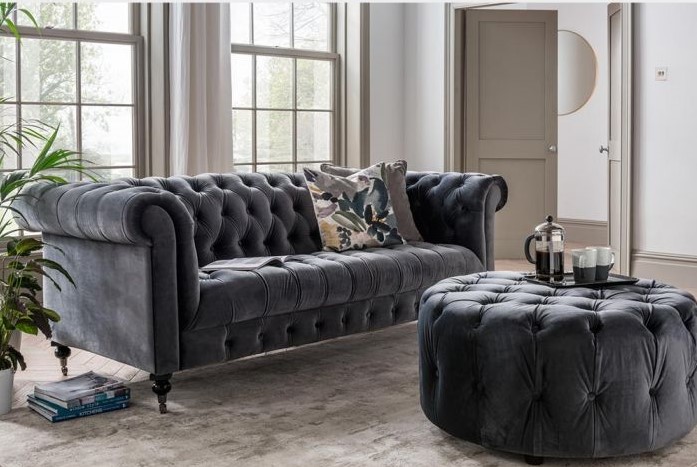 2. Play Hangplant
Imagine your friends and family craning their necks to see the beautiful indoor plants dangling above them. Giving you enough time to quickly move the wine-stained rug out of sight! Luckily, hanging your plants from high up can work as much more than just a distraction.
Hang from the Ceiling
The upside of hanging plants is they can literally be placed anywhere in your living room. Just make sure to put them in less active places, like the corner so they don't get knocked.
Hanging plants are an elegant and sophisticated way to add a touch of green into your living room. Your plants can also be hung at different heights to create more depth. If you're feeling extra creative you can even create hanging terrariums, and give your plants a personalised habitat.
Creating your new ceiling garden frees up precious space on your shelves and keeps them out of reach of pets and children. And if you're struggling for ideas, a Boston Fern can be a great starting point.

Create a 'Living Wall' with Low Hanging Plants
With the use of wall mounts and shelving, you can essentially create a 'living wall' with low hanging plants. Placing greenery over your oak bookcases and shelves can elevate an otherwise bland bookshelf.
If your floors and tables are filled to the brim, look up. Low hanging plants are a great way to utilise space that would otherwise be off-limits.
The arrowhead plant is a great candidate as their vines grow long over time, so refrain from trimming to keep their leaves nice and long. If you're keen to invade other areas of your home with foliage they can also work extremely well in bathrooms and kitchens. This is due to the Arrowhead plant preferring moist and humid conditions.
While creating a 'living wall' can seem like a lot of effort, the visual benefits redeem them massively. Watch your friends in awe as they settle their eyes on your gorgeous green wall.


3. Window Seat
Much like next to the sofa, a window seat is a prime candidate for your plants. The sunlight that plants desperately need is diluted once it steps inside. Which is then worsened the further the plant is moved away from the window. Even a measly few feet can reduce the light intensity by more than 50%.
It's no wonder that a window shelf is the first choice. However, it's also important to note which direction your windows are facing - just because a plant is at the window doesn't guarantee it direct sunlight.
It's worth a bit of research to know which plants pine for sunlight and which ones take comfort in the shade. Placing a plant that doesn't need direct sunlight at the window, can actually end up scorching the leaves and roots of the plants.
4. Choose a Beautiful Home for your Green Friends
Choosing a home for your green companions can be just as difficult as settling on the little fella in the first place. Taking your time to choose a housing method for your indoor plants is worth the effort. Make sure to choose colours and textures that will complement your living room's walls and furniture.
Plant pots may seem pretty straight-forward, however, there are a couple of considerations to bear in mind. Breathability comes to mind first. Ceramic pots are a great choice because they are porous. Meaning you are less likely to overwater your dear plants and cause root rot.
Plastic pots can be a viable choice as well since they are lighter, less likely to break and easier to clean. Plants in plastic will also dry more slowly which is good for those plants that need less watering.
A craze that has stormed interior design is geometrical shapes - and this is no different for plants. Whether it's incorporated into the pattern, or the pots are geometrically shaped, it's hard to deny how good they look. Making perfect ornaments for your oak desk, or decorations for side tables and bookshelves.
No matter the plant, considering the pot is an important step in the process.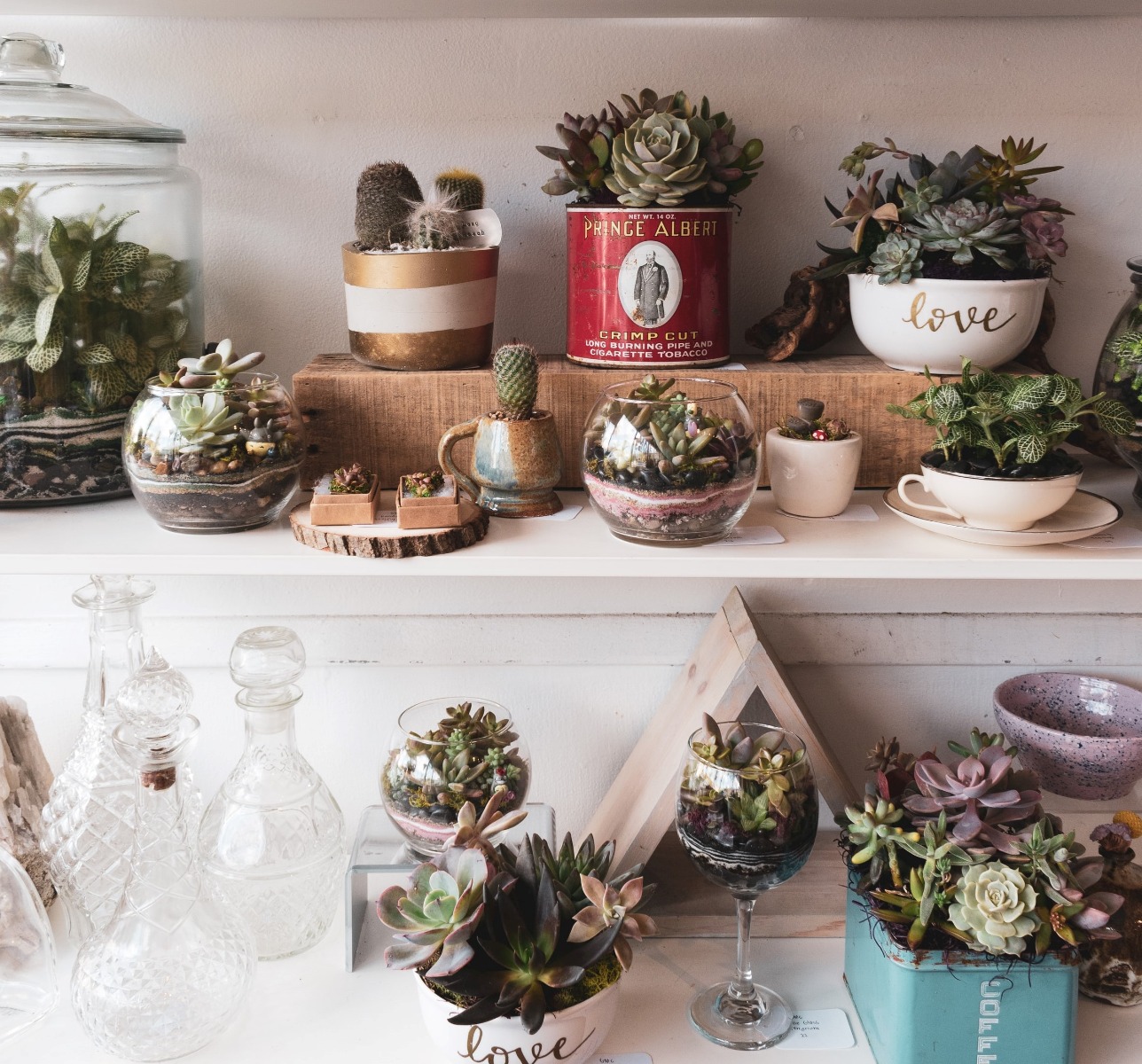 5. Fake is the New Real?
Whether you are lacking the time and effort to take on the responsibility of plants, or have distinctive allergies there is an option for you. When in doubt fake it until you make it, so until you can master the real thing - fake is just as good.
If you're looking for something similar, there are always artificial plants to decorate your home. They provide the look and feel of real plants, without the demand for choosing the right lighting spot. Artificial or 'Faux' plants come in a variety of designs, ranging from like larger trees and vines, to more intricate pieces.
Decorating your home with nature doesn't have to be just plants. You can incorporate elements of photography, art and nature-inspired decor to get the same effect. Frame leaves, hang up snapshots from nature trails or of beautiful valleys. There are no limitations to incorporating nature into your home, fake or not.
Considerations
Filling your home to the brim may sound like a good idea to start with, but plants take dedication and attention to keep alive. Before going to your nearest garden centre and grabbing everything green, consider if you have time.
And on the other hand, while plants may take time out of your day, the health benefits alone are worth the grumble. Considering both the up and downside of bringing plants into your home before committing.
Bad at Keeping Plants Alive?
Have you got a reputation for assassinating your green friends? Nobody ever said plant parenting was easy. Plants are much like children in that they need feeding and nurturing to stay alive. If you have the proper time and effort to invest, great! If you don't below you can find a list of (pretty much) unkillable plants.
Cacti and succulents are ever-popular choices both in offices and homes. If you're wondering why, have you ever seen anyone manage to kill them off? No? Exactly - these things are pretty much indestructible. They store water for long periods of time to survive in brighter and dryer climates. So if you're known for forgetting to water your plants, this is the guy for you.
Snake plants are another great choice for people that want plants but don't have the time. You can get away with watering them monthly or so when kept in the shade or semi-light area. Corn plants are also known for surviving on little attention, thriving on the bare minimum.
If you're known for neglecting your household plants, don't fear. There are plants that will survive with almost no looking after, so you too can enjoy the beauty of nature in your home.
Health Benefits of Having Plants in your Home
House plants are great at enhancing the look and feel of any room. But did you also know they bring a tonne of health benefits? A number of scientific studies have explored this topic and turns out plants can improve both your health and overall mood.
Plants have been proven to improve mood, reduce stress levels, reduce blood pressure and even relieve pain for patients in hospitals. However, most importantly they absorb harmful pollutants in the air such as Volatile Organic Compounds (VOCs).
As it turns out plants aren't just there to look pretty, although they do a pretty good job at that too.
Still looking for living room decoration ideas?
Indoor plants can breathe a new lease of life into your living room. Find inspiration for your new living space with our online range of high-quality oak living room furniture.