Farmhouse Dining Table Ideas
The kitchen and dining room are the heart of every family home. The family comes together at the dining table; it's where everyday life is shared and significant events are celebrated. The right dining table creates a cosy, comfortable atmosphere in your home and will last through all the years of conversations, good meals and special moments. It's important to find the look you love, so explore our farmhouse dining table ideas for inspiration for your home to make it as cosy, comfortable and welcoming as possible.
We've pulled together our favourite rustic, country-living tables. We also have extra tips on how to create that perfect farmhouse look in your home.
What Does 'Farmhouse' Mean?
The farmhouse style of decorating focuses on making rooms warm, cosy and welcoming. Farmhouse decor has character and charm that makes your kitchen feel less like a showroom and more like a dynamic space that's the living heart of the house. This style is best done by combining old and new to get the right balance of warmth while avoiding it looking too kitsch.
Farmhouse dining tables, therefore, should always bring in a touch of nature and, even better, a rustic feel. When you're looking for a dining table for your farmhouse design, always opt for real wood. Oak is often a good choice, but there are other options that can also work well including pine and elm.
Practical and Durable
Another key feature of the farmhouse aesthetic is practicality. Originally, practicality was the most important thing in a farmhouse so every item and piece of furniture was about what was available and what was helpful. This often meant having large, solid tables that would last a long time, but also fit lots of people around them and create a surface space for every and any activity!
When you're creating your farmhouse style kitchen or dining room, always consider practicality. Everything in your room should be hardy, while still maintaining a feel of sophistication or elegance. This means it's important to pick a solid, quality dining table. It's going to be the centrepoint of your room and therefore has to be right!
5 Farmhouse Dining Table Ideas
1. Traditional Solid Oak
Farmhouses have been using oak for flooring and furniture for centuries. This long standing tradition means an oak dining table is guaranteed to add farmhouse charm to your kitchen or dining room.
The farmhouse style is often characterised by lots of wood, such as exposed beams and solid wood floors. A traditional oak table, therefore, is a good choice to fit with this aesthetic, bringing in the natural tones of oak to create a warm and charming feel to the room.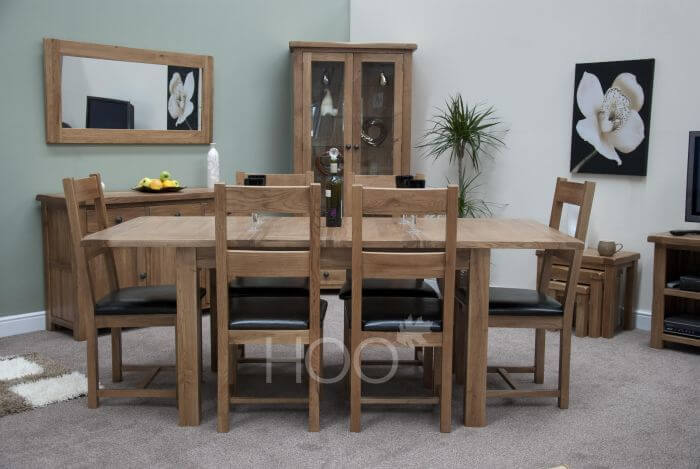 Why not add extra practicality to your dining table by choosing an extending version? This means your table can get larger or smaller according to how many people you want to squeeze around it. It's a great shout for a farmhouse dining table as it will ensure the kitchen doesn't feel crowded by a big table, but you can still invite guests over or have the family back for the weekend.
2. Wood & Metal Combination
A farm is a place where machinery meets tradition and therefore a fusion table can be a great choice to add to your style. A rustic wooden table top combined with metal legs blends practicality with beauty for a fantastic farmhouse dining table. The darker colouring of the metal can also add warmth to a space so can make your dining room or diner kitchen feel more cosy and welcoming.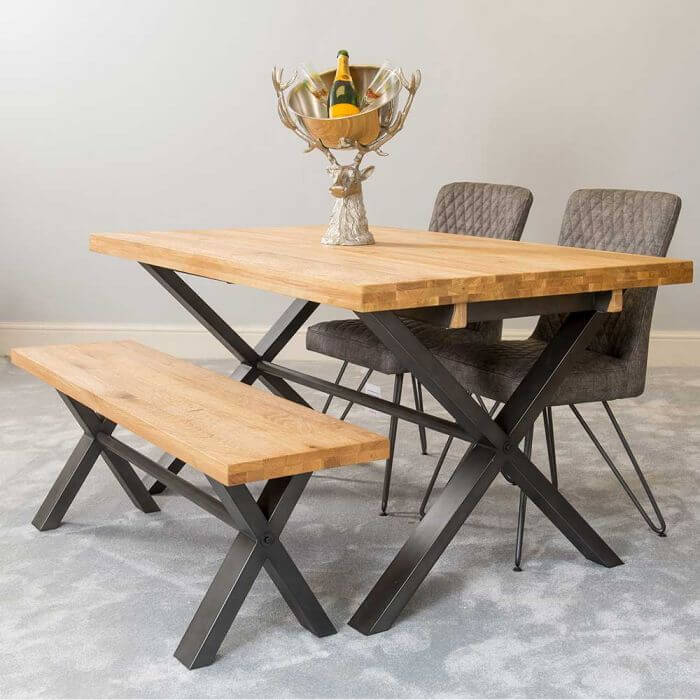 3. Reclaimed Wood Table
Reclaimed wood is wood that has previously been used for another purpose before being reused and reworked into something new, such as a table. It usually means that reclaimed items are more rustic and have added character that just can't be matched with a brand new table.
Reclaimed wood makes for beautiful farmhouse dining tables. For example, this reclaimed elm table is absolutely stunning. It features solid and durable wood with a rustic tone that makes it feel old and loved. It's the absolute perfect choice for any farmhouse dining room.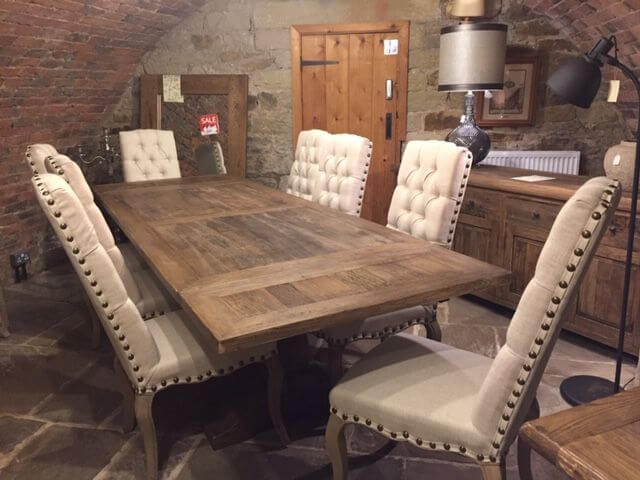 It's worth bearing in mind that the colour of your dining table will have a big impact on your room as a whole. If you have a dark wood table, think about the light in your room, the colour of your wallpaper and floor, and the colour of the rest of your furnishings. Dark furniture often works best paired with lighter coloured walls and other items so the room as a whole doesn't feel too small or dark.
4. Painted Dining Table
While lots of wood can look great, choosing a painted oak table can add extra charm and character. It provides a comforting, familiar and homey sense as the table feels more personalised than a traditional, solid oak piece.
This table would make a great farmhouse dining table. It's more delicate than the reclaimed elm option, for example, but the painted look adds charm and character. It also helps to lighten up a room and make it feel more spacious. It works well when combined with other light oak furniture or cabinets painted to match.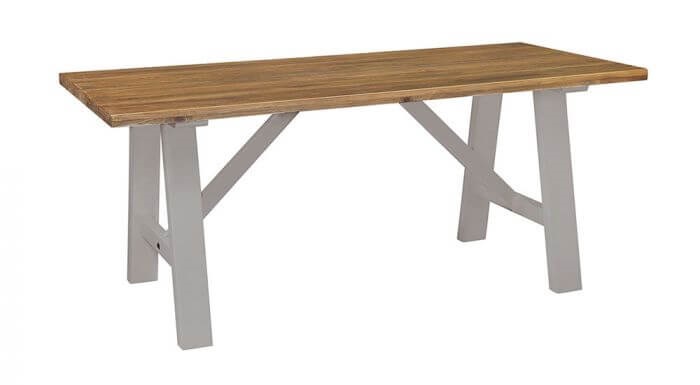 5. Tables and Benches
For a really traditional farmhouse dining table, pair your table with benches instead of standard chairs. This look will add to the country feel of your kitchen or dining room. You can find benches in all sorts of styles including solid oak, like the one pictured below, painted oak or a wooden bench combined with metal legs to match a more industrial style of table.
Benches have other benefits too. They're great if you want to squeeze in additional people without carrying in extra chairs from around the house. They also take up less space than chairs. This helps your dining room to feel more spacious as a whole, but also means the seats can be tucked away under the table much more easily.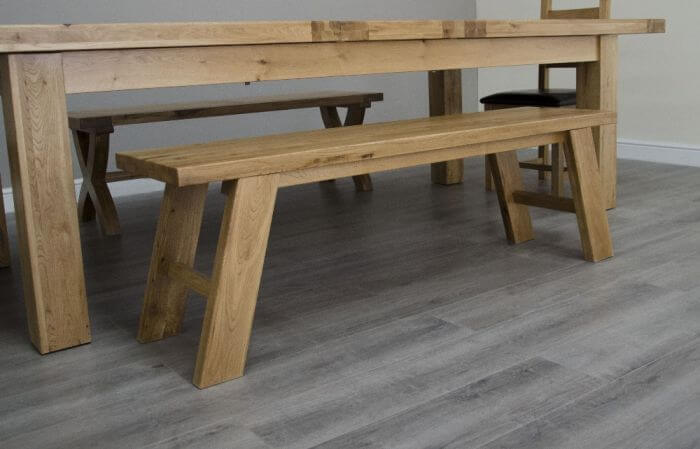 Extra Tips For Farmhouse Dining Rooms
Mix Don't Match
Farmhouse dining rooms or kitchens look best built over time rather than all in one go. If everything matches, it will look too complete and perfect to really hit the farmhouse kitchen mark. You want there to be slight discrepancies and little touches of character that make it your own.
Try gathering your items of furniture over time, rather than all in one go. You could find tableware and upholstery items from charity shops so they're more likely to be unique to you and will bring character into your home.
Balance Charm & Practicality
It can be easy to accidentally shift from beautiful farmhouse to something that looks more twee and kitsch. Bright colours, polka dots and wallpaper with fruit on can all take your kitchen or dining room over the edge. The real trick to avoiding this is ensuring that you get the balance between practical and charming. Mixing up items in each category helps to keep the look in balance and create the right overall style.
Think About Colour
Farmhouse interiors tend to be more characterised by softer tones and warmer colours than by anything too bold. As you're decorating your dining room or kitchen, consider what colours you're using for the walls and how these will interact with the room as a whole. Off-whites can be a good choice as they match well with anything, but pastel colours can also work when paired with the right furniture.
If you're looking for a farmhouse dining table then check out the full range of solid oak dining tables available at House of Oak.