How To Decorate A Small Kitchen: Furniture & Decor
Although many of us dream of an open-plan, large kitchen with sprawled marble worktops, a kitchen island, a walk-in pantry and a mini-bar, most of us are faced with the reality of a small kitchen. However, even if we don't have a large amount of square footage, this doesn't mean we can't create our dream space.
The kitchen is the heart of the home, and small kitchens can still be designed and created so that space doesn't change this. Although you might be short on floor space, small kitchens can be the perfect opportunity to establish your one-of-a-kind kitchen that is customised to fit your everyday life.
Less space to play with calls for innovative storage solutions, that can make our life easier, decluttering so we're left with the kitchen utensils we need, and unique decor possibilities, to show off our unique flair.
Transform your small kitchen with our top small kitchen decorating ideas, small kitchen table ideas and small kitchen seating ideas.
Create the illusion of space with glass doors
If you're working with a closed-off kitchen, i.e. not open-plan, a simple way to create the illusion of space is to swap out your wooden kitchen doors with clear glass doors. Glass doors can make your kitchen feel airy, light and inviting and feel like you've expanded your space, without doing so. Choose glass doors with panels that you can paint to match your colour scheme. Dark colours like black or navy blue can make your kitchen feel modern and still cosy in winter.
2. Hang high from the ceiling
Maximise every inch of space in your kitchen and hang your pots, pans and utensils from your ceiling. If you've got a pipe you can have on the show, paint that a gorgeous metal, copper or brass colour to channel industry style decor or install a vintage curtain rod and use it for a functional, and stylish storage solution. Having your pots on the show might also encourage you to declutter and opt for high-quality, trendy utensils.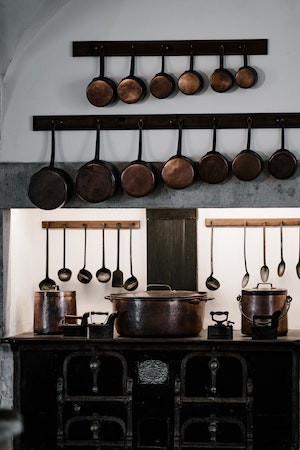 A hanging rail is also the perfect palace to mix up your decor and hang some hanging plants!
3. Decorate light and bright
Lighter and whiter =brighter. Where possible, make sure to get some natural light into your space through windows. Natural light isn't just good for making a room feel spacier, it's also great for mental health too.
When it comes to painting colours, get some lighter paint that can form as a base colour for the rest of your kitchen and show off all the space and corners you do have. Choose a lighter kitchen countertop to extenuate your space. This will also help make features and colour pops stand out too and on that note.
4. Don't forget to contrast with shades!
Once you've established your base colour, create a visual flow and definition of spaces with shades and colour blends. This is where your kitchen personality will come to life! Pair your lighter coloured base with gorgeous bold colours and different shades. This could look like darker painted cupboards, cupboard handles, utensils, floorboards or accessories.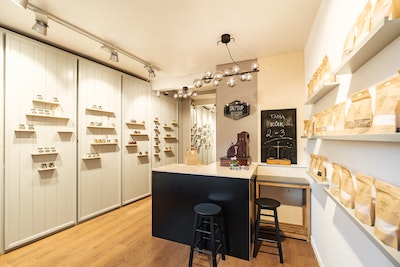 5. Experiment with patterns and textures too
Patterns and textures can also add more contrast and depth to your small kitchen design. A light, clean base gives you the opportunity of a blank canvas to play around with patterns. Choose a bold backsplash or kitchen tiles that match your colours scheme but also stand out for a modern and attractive look or pick an area of the room to wallpaper to add colour and pattern to your kitchen, without taking over the whole room.
6. Install pull-out storage
Pull-out designed storage is great for small kitchens. Being able to store a lot of items, and also being able to pull out and view all those items, means less clutter, less waste, more productivity and more tidiness! Pull-out pantries, pull-out cupboards, the whole lot, can all transform awkward corners into cleverly designed, useful spaces.
7. Make storage space for everything
With a small kitchen, you'll want to keep as much stored away as possible, to leave countertops free and tidy to make the most of your space. Any extra space? Add in some storage! Where you can, add open shelves for those kitchen staple bits that usually sit on the side such as oil, seasoning, cookbooks and measuring jugs. Keeping this just above the countertop will leave you room for food prep and keeping them clear when you're not getting creative in the kitchen.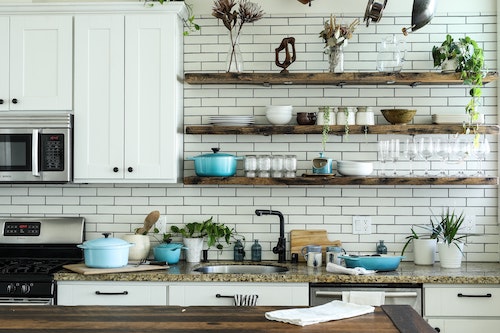 8. Install wine and beverage storage
Whether wine or fizzy waters are your jam, many of us like to keep at least an emergency supply of our drink of choice stocked in! Create dedicated storage for refreshments and install a wine rack or a wine fridge. Not just a lockdown purchase, wine fridges are actually a great storage solution. Keep your beers, wines and soft drinks cold at all times and keep them out the way.
9. Organise with see-through containers
It's no surprise that organisation is up there with one of the most important factors in keeping a small kitchen in working order. Not only does decanting your pasta, rice, cereals and other condiments into see-through containers look good, it's also great for keeping on top of what you've got in the cupboards so you don't lose anything too small nooks and crannies. Especially if you've got open-shelving or cupboards, choose see-through containers.
Small Kitchen Table Ideas
Picking a kitchen table for a small kitchen can be a tricky task. The main objective is to not make an already small space feel smaller. Luckily there are plenty of different types of small kitchen table ideas to choose from, here are a few of our favourites.
10. Choose a round table
Round tables generally take up less space than rectangular or square tables. With a smaller surface area, they fit into smaller spaces easier and make more room for manoeuvring around it. The rounded edges make the table feel softer and mean you don't have to avoid bashing yourself on a sharp edge when moving around it. Choose a lightweight design so you can easily move the table and feel less restrictive.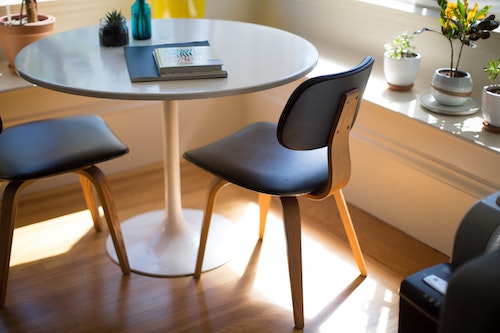 11. Make your table multifunctional
The best use of a kitchen table is… keep it multifunctional. As the heart of the home, the kitchen draws a lot of different activities. Choose a small kitchen table you can use at the centre of the kitchen for food preparation, food storage, a small kitchen island and to be able to work from as well.
12. Opt for a kitchen table with storage
Choose a kitchen table that also has storage built-in. Kitchen tables in the style of a butcher's block are great as you can store bulky items underneath or even fruit and veg. Kitchen tables with draws in are also great for keeping handy items like pens, paper as well as cutlery.
Small Kitchen Seating Ideas
Once you've decided on a small kitchen table, you'll need some seating to go with it. Although you might not have room for a large number of kitchen chairs, it's important to add some seating into your kitchen, so you can sit up to your multipurpose table and do as one does in the kitchen.
13. Swap some chairs for a kitchen bench
Casual and flexible, kitchen benches are the ideal seating for small kitchens to bring the family together. Oak kitchen benches look very visually appealing in any kitchen and are great for small spaces as they add ample seating and you can simply push them under the table or against the wall out of the way when not in use. Choose a bench with added cushioning for extra comfort!
14. Keep a low profile with kitchen stools
Similar to kitchen benches, kitchen stools are great for kitchen seating as they can also be pushed away when not in use, giving you the freedom to use the kitchen table for what you want. Opt for low, smaller stools so they don't take up too much space and can be easily tidied to one side or stacked if you want to use your table as a buffet space!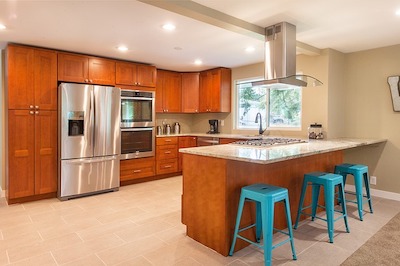 15. Add colour pops and style with kitchen stools
As well as being highly functional, kitchen stools are another great way to show off your style and add colour to your kitchen. Choosing colourful stools can work as statement pieces for your kitchen's colour scheme and completely revamp your kitchen table, or island.
16. Decide on a bistro-style table and seating arrangement
Bistro-style tables and chairs are most commonly found on balconies and outdoor seating, perhaps in a nice square in Europe? For those not familiar, bistro-style tables and chairs often consist of a round table and 2 chairs that can be folded away. There's a reason that these are so popular, and that's because they take up exactly as much space as needed (not that much) and are flexible enough to move around when in or not in use.
17. Build-in your seating
Depending on the shape of your kitchen, it may be space effective to build your seating into your small kitchen design. Here, you could build in a seating area on a corner, or onto a window ledge. This would save you floor space and you could even fit more people around the table with no gaps between chairs.
So, how should you furnish a small kitchen?
It's easy to see there are a lot of creative ways to furnish and decorate a small kitchen. Our top tip is, to begin with decluttering your kitchen of all unnecessary utensils and kitchenware to get you started with (we're all guilty of hoarding that cheese toastie we use once every 3 years). From that, choose a colour scheme and style and focus on storage and innovative solutions for your space.
Explore beautiful oak kitchen furniture at House Of Oak.