Leather Or Fabric Sofas: Which Is Better?
The sofa is often the centre of any living space. It's where we choose to congregate together at the end of a working day, settle in for an afternoon, or more recently, even chosen to work from.
When looking for a new sofa, there are many factors to consider. What style you are looking for? What room will it sit in? How big do you need it to be? Corner sofa or straight sofa? However, today we are looking into an age-old debate. No, not what came first the chicken or the egg more pressingly, what is best, a leather or fabric sofa?
As we spend more time on our sofas than ever before, it is an important piece of furniture to get right. The final decision of this debate is completely based on personal preference, so a good place to start is to think about what are you looking for in a sofa and which sofa would be best for your requirements? Today, we'll look at some of the top sofa considerations and see which sofa is right for you.
1. Comfort: Which sofa takes the lead on comfort?
Both kinds of sofas come with different characteristics and it is not just the material of a sofa that affects the overall comfort. Frames, springs, and positioning all play a part in how comfy a sofa is. For this discussion though, we'll delve into just what effect the material of a sofa can have on comfort.
Comfort, of course, is entirely subjective. Generally, though, fabric sofas are considered the more comfortable option of the two. Fabric sofas are often softer and spongier and appear more inviting than leather sofas. Leather sofas have a tendency to become cold in winter, making them less inviting and in summer, they have a tendency to become hot and sticky, absorbing up the heat. A leather sofa can be dressed up to be cosier using soft throws and cushions but, this takes away from the leather look. If you are looking to snuggle up and be cosy straight away, a fabric sofa may be the better choice.
2. Durability: Will a fabric or leather sofa last longer?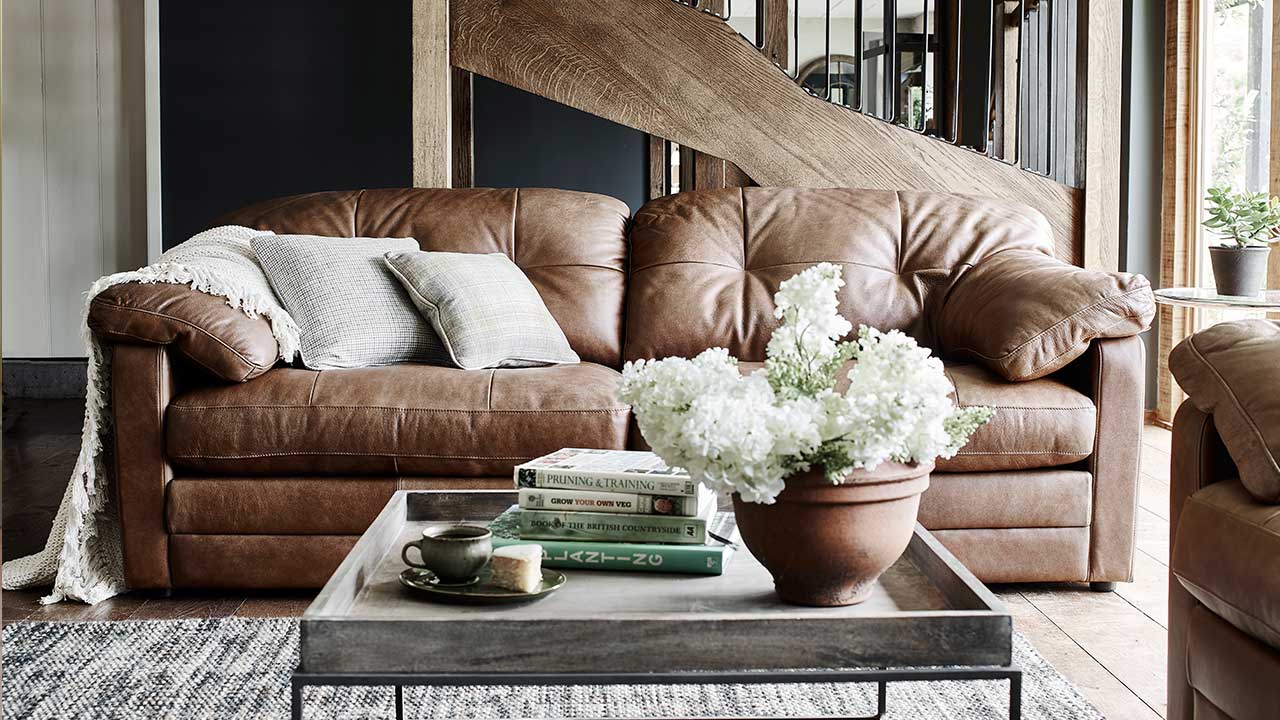 Sofas really are an investment and you will be looking for one to withstand time as well as everyday life. So which will last longer? This will be dependent on your everyday life but leather and fabric sofas do require different levels of care.
Leather is a thick and durable material that can be easily cleaned and spills can be wiped away with ease, whereas fabric can wear more easily and stain or become tatty easily. Because of this, leather sofas do tend to last longer than fabric sofas and are easier to maintain. Do be careful when it comes to where you place a leather sofa, as leather can fade in the sun.
In order for leather sofas to last, they do need a level of care such as regular cleaning and conditioning, but be sure to look at how to best clean your particular sofa before trying a generic method. Some parts of fabric sofas like the cushioned parts may also be able to removed from the body of the sofa and washed separately which makes the cleaning process easier.
When it comes to rips and tears, both types of sofas are relatively straightforward to repair. Leather sofas can be repaired through glueing or patch repairs and fabric sofas can be stitched up using a simple needle and thread.
Another thing to consider is dust allergies. Fabric tends to trap dust mites and pet hair which can mean they are not great for people with allergies if they are not hoovered often. Leather, on the other hand, does not trap pet hair and dust as well and tends to be hypoallergenic.
3. Leather or fabric sofa with kids?
When it comes to choosing a leather or fabric sofa with kids, both have their advantages and disadvantages. Leather is of course, easier to clean. Found yourself with a spilt juice carton or chocolate ice cream spill? Wipe away straight away and it's gone. On the other hand, leather is much more susceptible to scratches, scuffs, and long-term upholstery damage. These can be obtained from clothing with zips on and toys, or, if you don't wipe away a stain straight away it can take more work to get the stain away and to avoid long-term marks. Scruffs and marks on leather sofas can be covered up with rugs and soft furnishings though.
If you'd prefer a fabric sofa that can be more comfortable and cosy for family living and snuggling up, look into protected fabrics or easily clean fabrics to make the inevitable spills and crumbs not affect the sofa too long. Like leather sofas, to protect the sofa further you can dress them with throws or blankets which you can easily throw in the wash.
Kids are prone to jumping around, wiggling and generally not keeping still on sofas so when in doubt, take the whole family to check out a sofa and find out what works for you and your crew.
4. Leather or fabric sofa with pets?
For pet owners, choosing a sofa that will be safe from scratches, tears and damage from your pet is a near-impossible task. Choosing to have either leather or fabric sofas with pets is a bit of a gamble but the most common answer you will see is leather is the more popular choice and more durable material to be used on a sofa if you have pets.
Leather is arguably the more durable option due to its ability to take accidental spills and liquids better at the wipe of a damp cloth, but it is also the way in which it repels odour which makes it particularly popular with pet owners. Odours will not soak into leather, as opposed to fabrics which can often soak up dampness and odours from pets. Depending on the quality of the leather you may be at risk of claw scratches and punctures, therefore it is important to make sure you choose genuine leather for sofas. Faux or recycled leather is much thinner and will be much more prone to scratches. Or, if you choose to go down the fabric route, take preventative measures such as pet scratch-resistant sprays or throws to ensure your fabric does not get ruined.
If you are subjecting your leather sofa to kids, pets or you're generally live a bit more rough and ready, opt for a high-class and quality leather as genuine leather lasts better and is more durable. Check out our Saddler Sofas & Chairs range for high-quality leather sofas and chairs.
5. Cost, are leather or fabric sofas better value for money?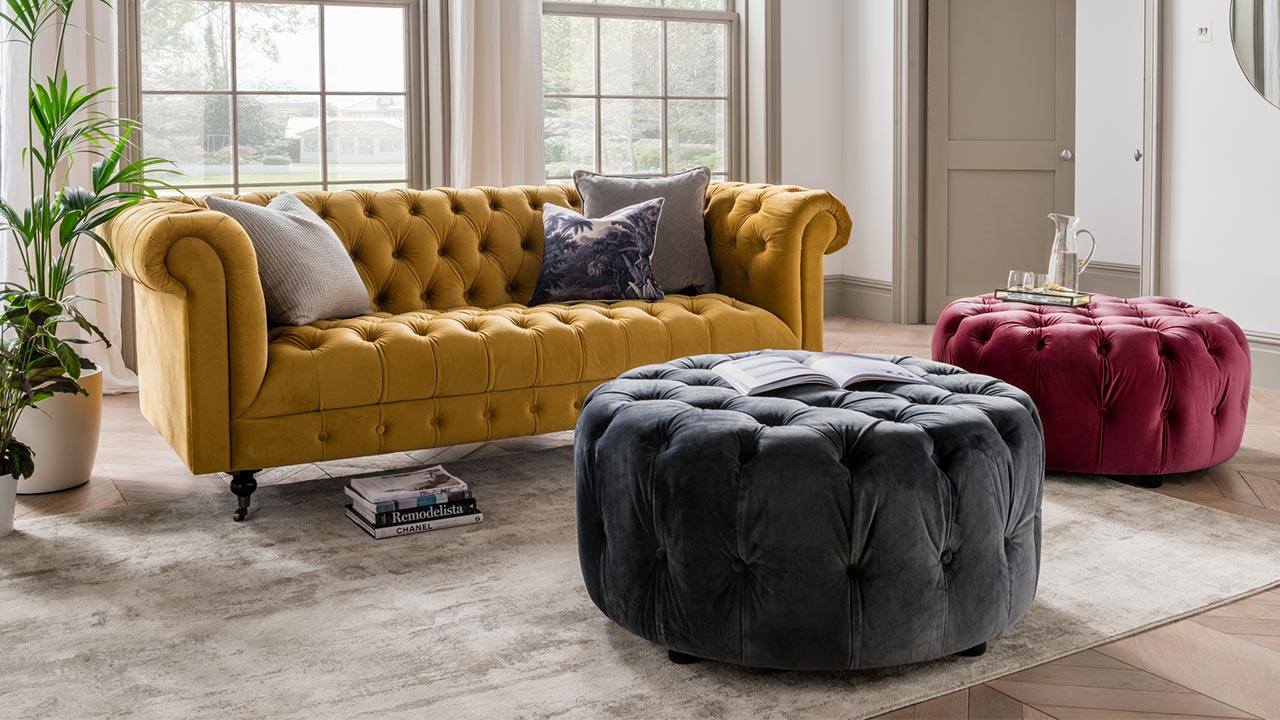 Like any furniture, you pay for the quality you get. On the whole, fabric sofas are usually cheaper than leather sofas but that is not always the case, on cost in relation to value. If you pay for a premium fabric sofa, the quality could be better than a cheaper leather sofa, the same goes for each way. Equally, if you spend more on a leather sofa, it could last you longer, much to consider.
Leather sofas can range in price depending on the quality of leather and also the size and type of sofa. Our leather sofas and chairs start from around £779 to £2287. For homeowners with smaller living spaces who are looking to add an element of leather luxury, our Saddler Standard Chair keeps the sofa as compact as possible while not compromising on quality and appearance. Or for those looking to fill a larger space or for a sofa with room for the whole family, our stunning Saddler LFH Chaise or Bailey 4 Seater Sofa are ensured to provide comfort and class.
Our beautiful range of fabric sofas range in price from around £400 for the smaller pieces like our Malo Armchair to £1500 including our magnificent Darby Chesterfield 3 Seater Sofa which comes in a variety of colours to match any decor.
Value isn't always measured on the quality of an item but more the value it has to you, whether that be comfort, added value to decor or how easy it is to maintain. So choose an item not solely based on cost but on the added value it brings to you.

6. And finally, what about style?
Once again, style is a subjective matter and completely down to personal taste, but there is a lot to be said for both. Leather is known for being sophisticated and is most commonly found in dark colours like black and brown for an ageless effect. They can be found in brighter colours like white or even yellow and greens for a more contemporary option. The characteristics of leather can depend on the type and quality of leather, you can opt for fader more rustic looking or a leather sofa with a clean shine.
Fabric sofas come in a much larger array of colours, styles, textures and patterns to go with any colour scheme, decorations and furniture. But be careful as what may be a contemporary trend now, may not be in 12 months time.
So, leather or fabric sofas, which are better?
There are both pros and cons for both fabric and leather sofas, due to the element of personal preference and what your purchase intention is. To summarise here are the advantages and disadvantages of both:
Leather sofas advantages:
Long-lasting and has high durability
Easy to maintain and clean spillages and mess
Hypoallergenic
Luxury in appearance, leather ages well
Leather sofa disadvantages:
Colour can fade in direct sunlight
Subject to rips and punctures if not looked after
Less choice in colours and styles
More subject to heat changes
Fabric sofas advantages:
Comfortable, much softer, warm and cosy.
Colour, fabric and texture options are much larger
Often more budget-friendly and cost-effective.
Fabric sofas disadvantages:
Harder to maintain, spills and mess show up easier
Holds fur and dust mites more if not hoovered often
Not as durable can look tatty after a while, especially with kids and pets present
Both kinds of sofas can add a lot of value to whatever room you choose to use them in and to your everyday life so we hope lining out the advantages and disadvantages of both in this article have helped you choose the right sofa material for you.
For inspiration on your next sofa, check out our beautiful range of Sofas, Chairs and Footstalls.