What Colours Go with Oak Furniture?
Oak furniture is highly versatile and works with a variety of different colour palettes. Whatever style you are going for, the colour that you paint your room will give a different feel to your oak furniture.
Whether you're going for contemporary chic, rustic, or classic elegance, there's a colour palette that will work with your oak furniture. And whether you're trying to create a minimal and calm atmosphere or maximal, striking statement, the colours that you use can go a long way towards helping you achieve it.
This blog post looks at four different approaches you can take to matching colours with oak furniture, then looks at some other frequently asked questions about colours and oak.
1. Light, neutral colours
For a contemporary feel, you can't go wrong with white or light grey. While magnolia and beige have been much maligned by designers over the past decade or so, off-white colours such as greige and stone are very much on trend. As the name suggests, greige is a mixture of grey and the dreaded beige, and stone is an off-white colour with a slightly warmer feel than white. All of these pair especially well with the yellow tinges of light oak. Perfect for creating a relaxing setting for your oak bedroom furniture.
2. Earthy, natural tones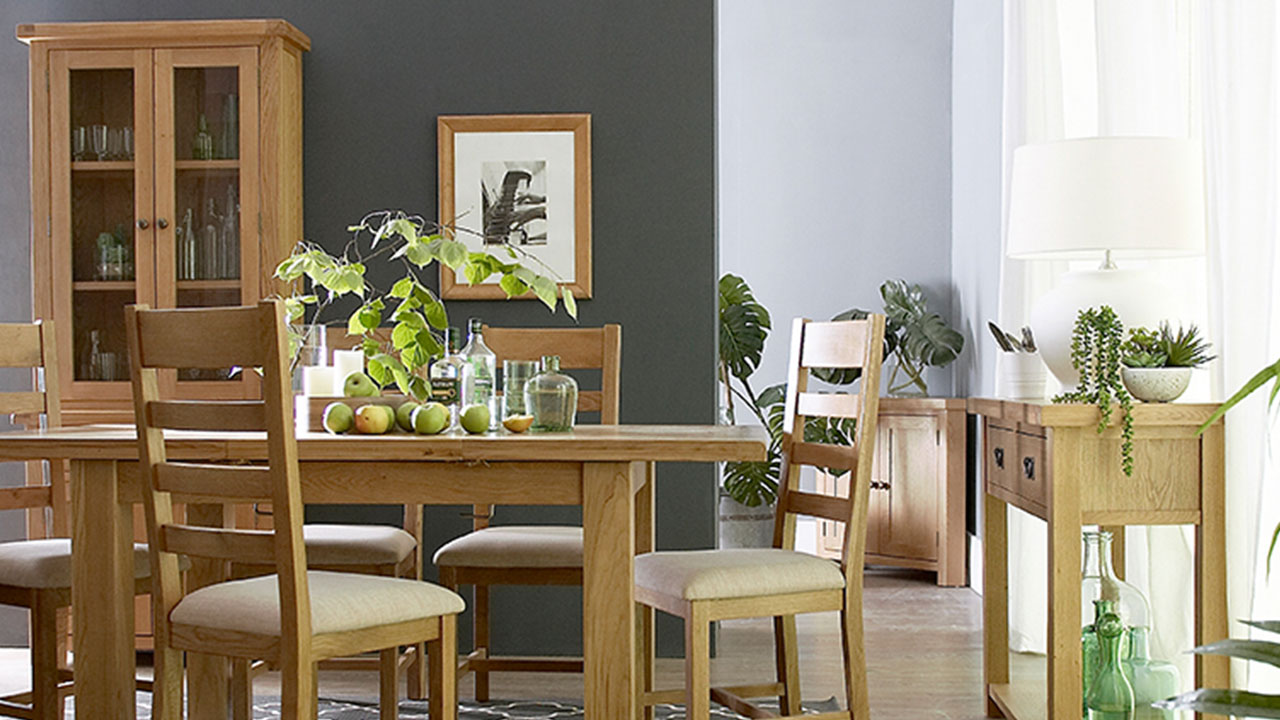 Image: Harewood Oak Dining Room range from House of Oak
Earthy tones on both the red and green part of the spectrum can work really well with both light and dark oak furniture. Greens like sage or olive help to create a calm feel, perfect for a living room or study. Richer earthy tones like tan, rust, terracotta, or burnt orange create a warm feel, which can be great as an accent colour to match your oak dining table.
3. Bold, rich tones
If you're looking to make a statement, there's nothing stopping you from pairing certain carefully selected bold, rich colours with your oak furniture. Rich reds and purples like burgundy, crimson, or claret make for a warm and cosy dining room or a sumptuous and decadent bedroom. This can work especially well when paired with darker oak furniture.
4. Soft, pastel shades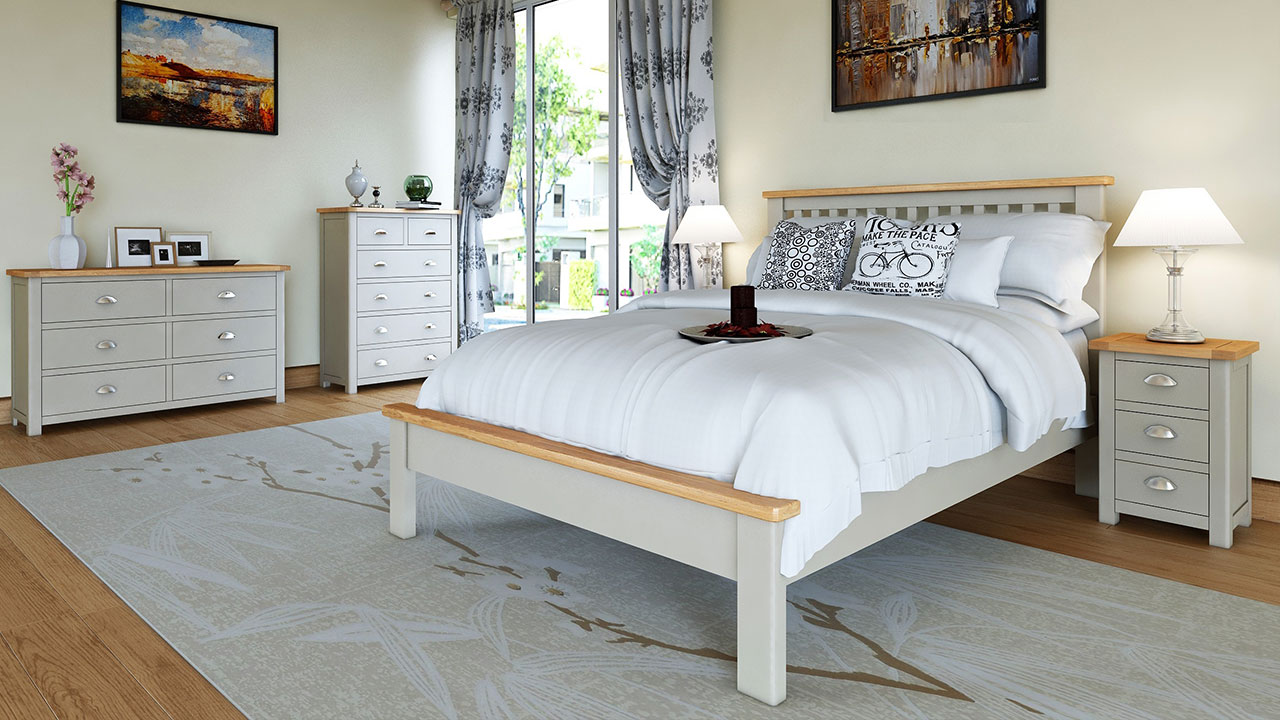 Image: Portman Stone Grey Bedroom Furniture range from House of Oak
Pastel shades across the colour spectrum can work with oak furniture too. For an airy, feminine feel, peaches and pinks are back from the 80s, and work wonderfully with the yellowish golden tones of light oak. A splash of green from some plants will really make this combination sing. On the other hand, pastel blues and oak furniture come together to create a marine feel, perfect for a house by the coast.
What colour floor goes with oak furniture?
It's important to make sure that your floor ties in with your furniture and the rest of your colour scheme. Exposed wooden floors, whether oak or even pine, will usually look great with your oak furniture, whichever room of the house you're looking at. If you're going with carpet, then the same as above applies. If in doubt, you can't go far wrong with light neutral colours like grey, stone, or greige.
What colours go with dark oak furniture?
Oak usually comes in a light, yellowy-gold colour, so dark oak furniture can call for a slightly different approach. Because of the rich colour of dark oak, it can look good to offset it with either airy or bold blues and greens. Pairing dark oak furniture with earthy greens like olive can create an elegant yet relaxing feel. Alternatively, muted grey-blues can create a contemporary chic feel.
What colours go with oak bedroom furniture?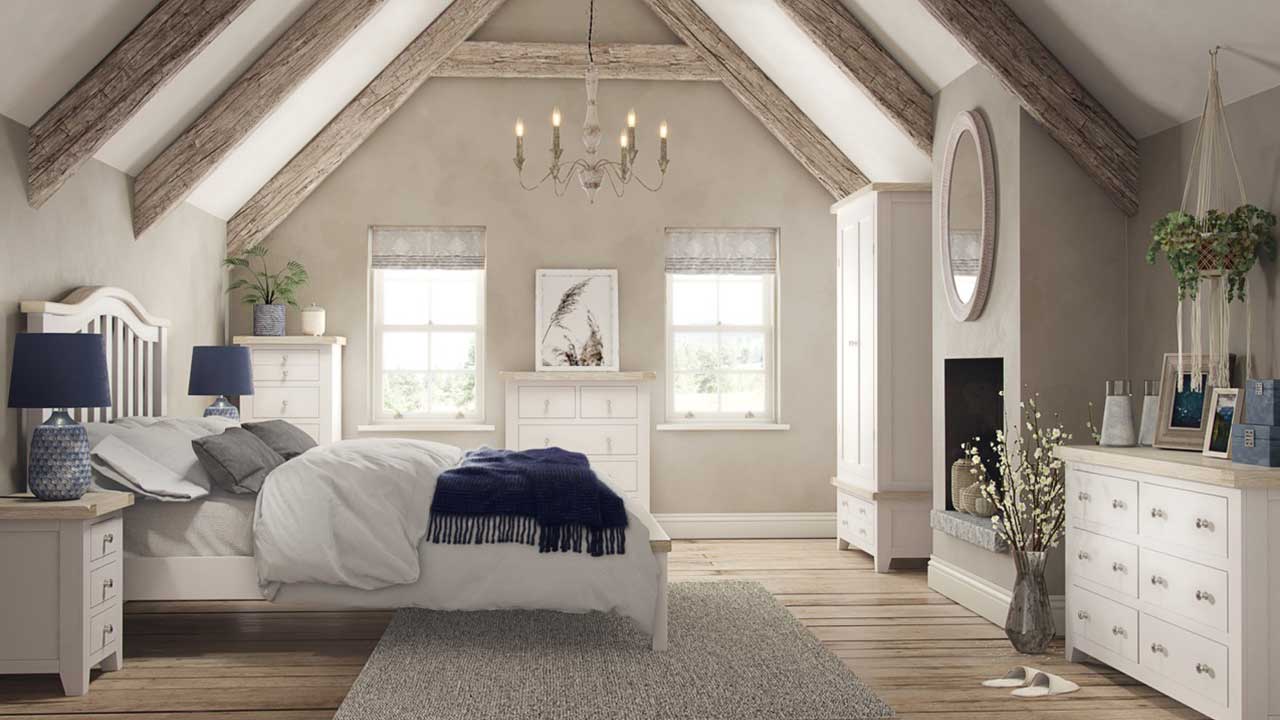 Image: Ella in Chalked Oak & Light Grey Bedroom Furniture from House of Oak
A lot of different colour palettes can work well with oak bedroom furniture, depending on the style and feel that you want to give the room. Greys, stone, and greige can create a contemporary, minimal feel. Pastel blues can create an airy, marine feel. Or for a cosy yet feminine feel, try pairing pastel pink and peach with your oak furniture. Natural green tones like sage can make your bedroom feel like a haven of peace and quiet.
What colour bedding goes with oak furniture?
Light, neutral coloured bedding almost always works well with oak bedroom furniture. For a tidy, yet inviting feel, you can't go wrong with white. Depending on the other colours in your room, light greys or neutral colours like stone can work well on your bed. You can use extra cushions or blankets to bring out highlight colours to tie in with the rest of your colour scheme.
Browse House of Oak's range of carefully selected quality oak furniture online today.