Oak Bedroom Ideas: 10 Ways To Refresh Your Room
Is your bedroom looking a bit tired? Even if you've got beautiful oak furniture, it's easy for the rest of your bedroom to get neglected. We all have busy lives, and as you crawl into bed, decorating your walls or tidying your floor is probably the last thing on your mind.
But if you have that nagging feeling that it's time to sort it out - well, it probably is. Try some of these ideas to freshen up your bedroom and turn it into a sanctuary of rest and relaxation, and get the most from your oak furniture. Here are ten of our best oak bedroom ideas to inspire you.
1. Use colour
A splash of the right sorts of colour can transform a drab and dreary bedroom. If you're working around oak furniture, then it's important to know what colours go with it. If your walls are creamy yellow or magnolia, then that could be part of the problem - when paired with oak, these colours will give your room a washed-out feel. The natural golden tones of oak work better with greys and whites. But there are also a whole load of colour options that can work, from pastels to bold reds. Read our full guide to which colours go with oak furniture.
2. Add Texture
Texture is often overlooked, but introducing natural fabrics to a room can make a huge difference. Blankets, rugs, and pillows don't just make your bedroom cosier - they also have a powerful effect on the eye and on the atmosphere of the space. Natural materials are best for this. Wool blankets, cotton throws, and jute or wool rugs soften a room, making it more inviting and a more relaxing space to be in. Don't underestimate the effect of texture, especially when paired with oak furniture!
3. Accessorise
If your bedroom is simply a place where you roll in, crash for the night, and then stumble out of bleary-eyed in the morning, then it's easy to miss the impact of some simple decorative accessories. These are the things that give your room character, and make it feel yours. This said, it's important that you don't fill your room with any old tat. What you're looking for are nicely-framed photos of happy memories, a tasteful bedside lamp, candles, or a practical and attractive clock. Just a couple of these add that personal touch that makes a bedroom feel your own, as well as perfectly complementing your oak furniture.
4. Paint it white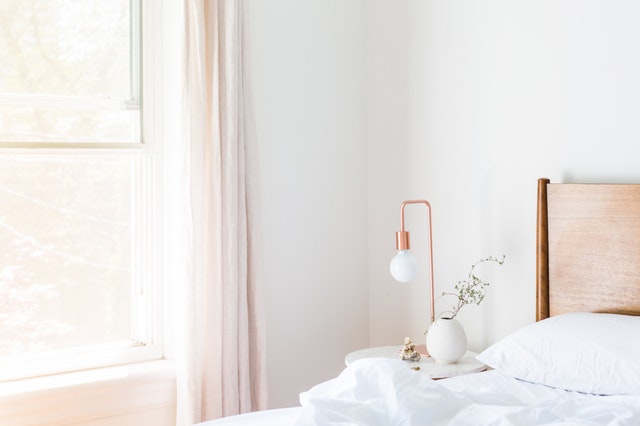 White walls are in. And if you are going for a contemporary, minimal, or a Scandi vibe especially, then white walls are pretty much essential. On a practical level, one of the great things about white walls is that they go with anything. Whatever colour your walls are now, if you paint them white, it's not going clash with your furniture or anything else in the room. But aside from the basic practical benefits, white walls help to create a peaceful and airy atmosphere in your bedroom which aids relaxation and sleep. And like oak furniture, white walls are timeless!
5. De-clutter
For many people, the number one thing you can do to improve your bedroom is to get rid of clutter. We know what it's like. Stuff accumulates. Piles of washing, books, and the stuff of life builds up and, frankly, who's got the time to deal with it? But there's a reason why you should. Decluttering will not only make your bedroom look a lot nicer, and allow your furniture to take pride of place - it'll help you to relax in there, without the distracting chaos that clutter and mess create. Go through the stuff in your bedroom, and see what you can pass on to a charity shop or recycle.
6. Re-style
If you want to switch things up in your bedroom, it's possible to do a bit of a restyle without spending much. Assuming you have some quality oak bedroom furniture to base your room around, there are a whole range of styles you can try. A lick of light grey paint on the walls, some candles, and some fairy lights can quickly turn your room into an elegant yet relaxed sanctuary. If you paint your walls pastel blue, and introduce some coastal artwork or photography you can instantly create a coastal feel. Alternatively, paint your walls white and expose your floor for an instant Scandinavian vibe. Sometimes it's possible to restyle with relatively little work!
7. Introduce plants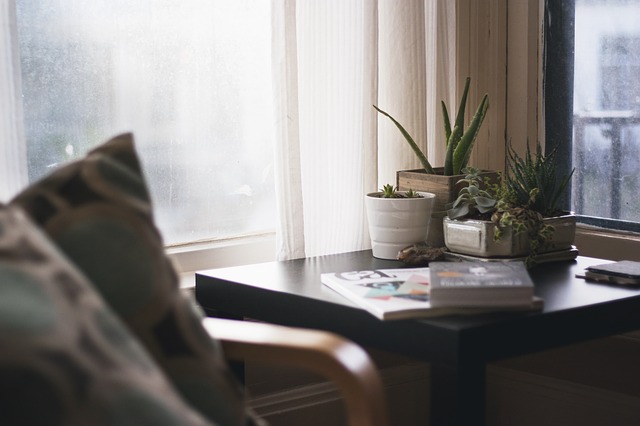 House plants are all the rage these days, and they work well with all sorts of different styles. From maximalist luxury to botanical chic, plants can have a place in any bedroom. Not only do they look great next to oak furniture - but they improve the air quality in your room, providing health benefits. Easy to maintain house plant examples include ferns, rubber plants, spider plants, peace lilies, and aloes. Find a nice pot for them to match the rest of your room, and you're onto an instant low-cost winner to elevate your bedroom.
8. Use wall art
Find it, buy it, or make it yourself - a well-chosen piece of wall art brings life and character to any room. Creating your own abstract art is cheap and enables you to introduce whatever colours you like into your room. There's also nothing more original than having your own completely unique artwork on the walls! Alternatively, you can find good value digital prints all over the place online, or in gift shops of art galleries or museums. Pair a nice print in a standard size with a simple picture frame. You'll be amazed by how good it looks next to your oak furniture!
9. Expose the floor
Nothing brings a room down like a tired old carpet. So if your carpet's not doing it for you, then why not take it out altogether? Now, this won't work for everyone - sometimes the floorboards have been hidden for a reason. But often, with just a little bit of sanding, your exposed floor can become a great feature of your bedroom. And if you're going for a Scandi vibe, exposed flooring is non-negotiable. Introduce a nice rug to round it off, and you're onto a winner!
10. Throw out your curtains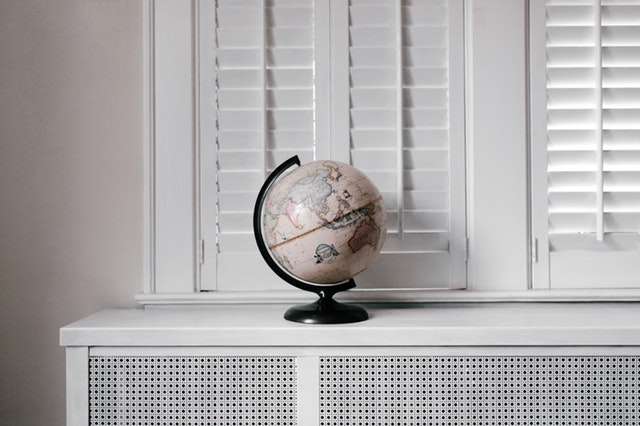 Curtains aren't the only way to get a bit of privacy, and neither are they always the best way. Besides that fact that new curtains are expensive, there's a whole world of attractive blinds out there to stand in as a superior alternative. Venetian blinds, Roman blinds, shutters, or even simple roller blinds can be an improvement on a bad set of curtains. And if you're willing to cut your own blinds down to size, then you can save a ton of cash.
Still looking for bedroom ideas and inspiration?
When all is said and done, sometimes your bedroom needs a furniture upgrade. And in our opinion, nothing will elevate your bedroom more than our beautiful oak bedroom furniture. Browse our range online today!